Minister Svetlan Stoev participates in the meeting of NATO Foreign Ministers in Riga
30 November 2021
News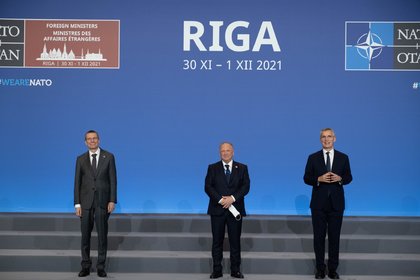 The Minister of Foreign Affairs Svetlan Stoev is taking part in the meeting of the Foreign Ministers of the NATO member states, which is being held today and tomorrow in the Latvian capital Riga.
All ministers expressed solidarity with Poland, Latvia and Lithuania over growing migrant pressure on their borders. The Alliance will continue to monitor closely the actions of the regime in Belarus. Ministers discussed Russia and the situation in and around Ukraine, preparations for the forthcoming NATO Summit in Madrid in July 2022 and the next Strategic Concept, as well as current issues of arms control, disarmament and non-proliferation. In the context of growing challenges, they reaffirmed the validity of the two-track approach to relations with Russia - effective deterrence and defence, on the one hand, and the search for political dialogue - on the other.
In his speech, Minister Stoev emphasized the growing security environment, the importance of maintaining unity in NATO, as well as the implementation of all measures of the adapted previous presence in the Black Sea.
The need to co-operate with the EU to address security challenges, as well as to maintain open channels of communication with Russia in order to avoid unforeseen incidents, was emphasized. The Allies also expressed full support for Ukraine's independence, sovereignty and territorial integrity, as well as their determination to defend the Alliance's territory if necessary.
The next Strategic Concept must reaffirm NATO's readiness to fulfil its core mandate in a complex and unpredictable security environment. A clear balance is needed between the Alliance's future more global approach and NATO's regional character.