Ambassador Veselin Valkanov presented his Letters of Credence to the President of Georgia, Salome Zourabichvili
14 July 2022
News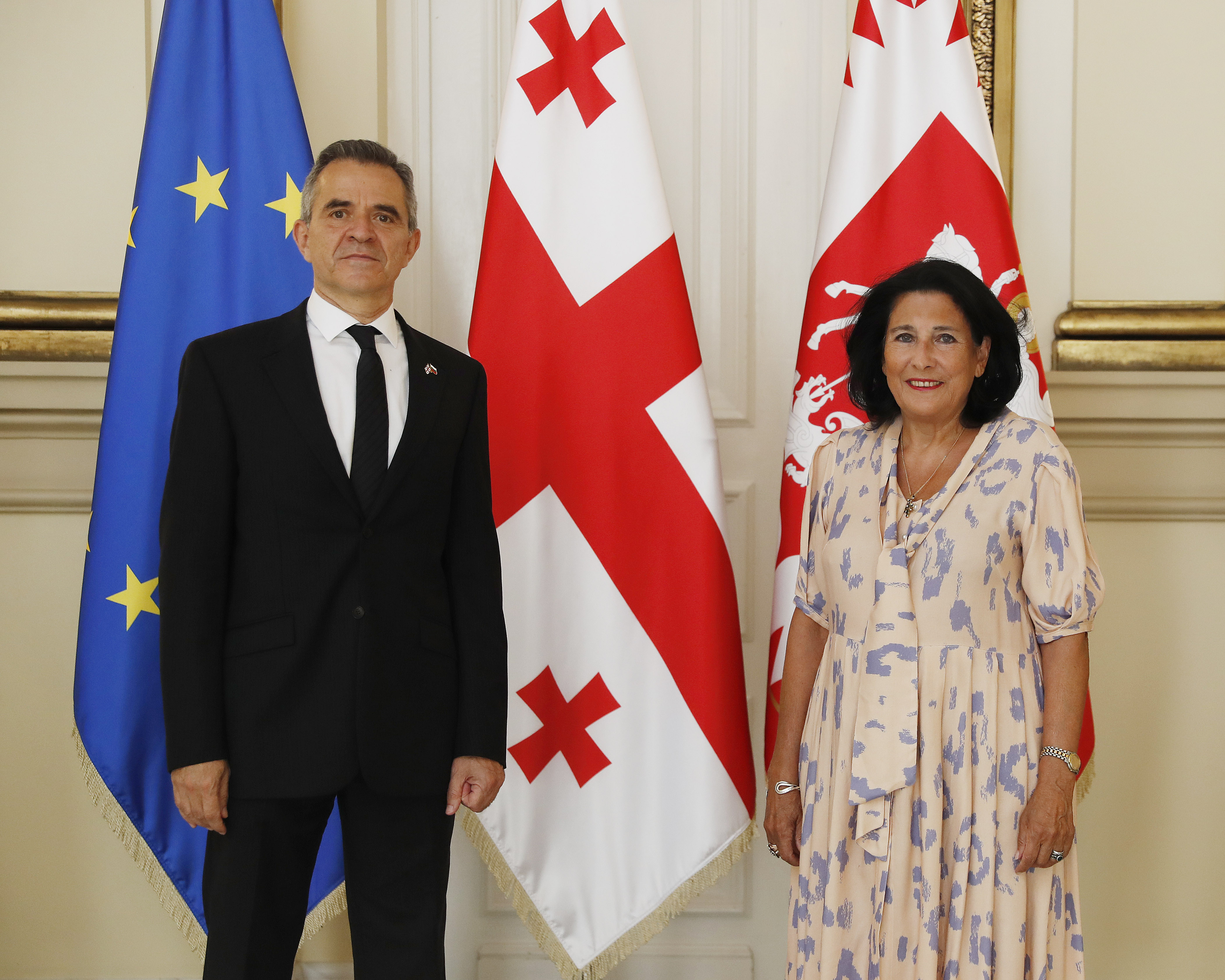 The newly appointed Ambassador Extraordinary and Plenipotentiary of the Republic of Bulgaria to Georgia, Veselin Valkanov, presented his Letters of Credence to the President of Georgia, Salome Zourabichvili, at a solemn ceremony held on 14 July 2022 at the Orbeliani Presidential Residence.
During the conversation between Ambassador Valkanov and President Zourabichvili after the official part, the Georgian Head of State welcomed the appointment of the Bulgarian senior diplomat and wished him success during his term in the country.
Salome Zourabichvili pointed out that there are excellent bilateral relations between Bulgaria and Georgia, strengthened by friendship and partnership, but also highlighted the importance of deepening Bulgarian-Georgian ties in areas of mutual interest, including economic cooperation, security and connectivity of the Black Sea region, as well as relations between Georgians and Bulgarians. The Head of State also highlighted the numerous projects in Georgia that Bulgaria has supported.
Ambassador Valkanov agreed and stressed that Bulgaria is one of the strongest supporters of Georgia in the context of its European and Euro-Atlantic aspirations and recalled that part of the reasons for this are related to the strong ties between the Georgian and Bulgarian people. This year marks the 30th anniversary of the establishment of diplomatic relations between the two countries, but the de facto closeness between the two peoples goes back decades, even centuries.
At the end of the talks, the President of Georgia and the Ambassador of Bulgaria in the country also discussed the upcoming high-level and bilateral visits and those of the highest-level between the two countries in 2022.
More photos