Deputy Minister Velislava Petrova received the Ambassador of Nigeria to Bulgaria
13 April 2022
News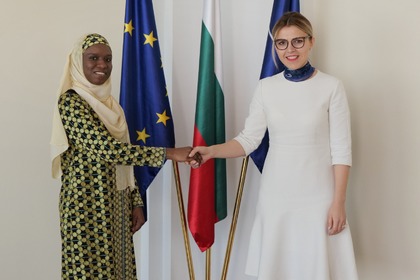 Deputy Minister of Foreign Affairs Velislava Petrova received the Ambassador of Nigeria to Bulgaria, based in Bucharest, Safiya Ahmad Nuhu. The two sides discussed opportunities to deepen political dialogue, co-operation in education, agriculture, information technology, and the development of economic and investment relations.
Bulgaria highly appreciates the excellent bilateral relations with Nigeria. We are convinced that the strengthening of the political dialogue will lead to the strengthening of the Bulgarian-Nigerian cooperation in all areas of mutual interest, Velislava Petrova pointed out. The visit of the Minister of Foreign Affairs of Nigeria, who is planned to visit our country next month at the invitation of Minister Teodora Genchovska, will also contribute to this.
During the conversation, Deputy Minister Petrova also said that Bulgaria is ready to open an honorary consulate in Lagos. She also highlighted the advantages of higher education in Bulgaria, noting that Bulgarian universities are increasingly interested in attracting students from West and Central Africa.
The two interlocutors also discussed various initiatives and joint projects, including the possibility of holding political consultations. "We have to work in this direction. There are many new realities that need to be taken into account in our relations," said Velislava Petrova.