Minister Teodora Genchovska met with her Italian counterpart Luigi Di Maio
13 April 2022
News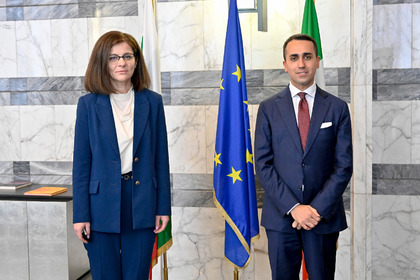 Today, Minister of Foreign Affairs Teodora Genchovska met with Italian counterpart Luigi Di Maio in Rome during a working visit to the country. The Russian military invasion of Ukraine and dealing with its consequences, topics of bilateral relations and cooperation within NATO, as well as the European perspective of the Western Balkans were discussed.
Minister Genchovska stressed that Bulgaria highly appreciates the excellent bilateral relations with Italy, including politically and economically. She added that there is great potential for their strengthening in a number of areas of mutual interest.
The two interlocutors discussed opportunities for co-operation under national recovery and sustainability plans. Our Minister of Foreign Affairs welcomed the initiative of the Italian side for a joint presentation of its national plans, which have a number of common points, especially in the fields of green and digital transition.
The conversation focused on the Russian military invasion of Ukraine. Minister Genchovska pointed out that preparations are already needed to assist in Ukraine's economic recovery. Both sides expressed satisfaction with the level of existing co-operation in the field of defense. They agreed on the importance of strengthening NATO's eastern as well as southern flanks.
During the meeting, Minister Genčovska stated our national position on the start of negotiations for membership of the Republic of Northern Macedonia, based on the Government Framework Position of October 9, 2019, supported unanimously by the Declaration of the National Assembly of October 10, 2019, as well as from the meeting of the National Security Advisory Council (CSNC) on January 10, 2022. Our Minister of Foreign Affairs stressed that in Bulgaria's support for EU enlargement it is crucial to follow the criterion of merit, and that the process of negotiating with the RNM is not guided by deadlines, but by what has been achieved on the merits.