Minister Teodora Genchovska participated in the meeting of the EU Foreign Affairs Council
11 April 2022
News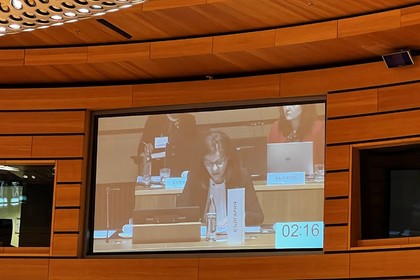 Today, the Minister of Foreign Affairs Teodora Genchovska took part in the regular monthly meeting of the Foreign Affairs Council, which took place in Luxembourg. The ministers discussed Russia's military aggression against Ukraine, the situation in the Western Balkans region, the European Commission's and the EEAS's Global Portal initiative, and the situation in Libya and Mali.
"As a woman and a mother, I am shocked by the horrific violence against civilians in Bucha, Kramatorsk and other Ukrainian settlements. The perpetrators of these crimes must face international justice and suffer the most severe punishments. Bulgaria continues to strongly support Ukraine. So far, our country has received over 70,000 refugees from Ukraine and provides humanitarian aid. Coordination with NATO is crucial and will continue to grow." Minister Genchovska called for enhanced cooperation with international partners for further diplomatic isolation of the Russian aggressor, as well as for firm opposition to Russian hybrid threats.
The member states reaffirmed that the EU will continue to provide assistance and assistance to Ukraine in all areas - defense capabilities, social and humanitarian aid, reception of refugees and others. With the active efforts of the EU, the United States, the United Kingdom and other partners, and with the broad support of countries from all over the world, Russia's membership of the UN Human Rights Council was suspended by the UN General Assembly on April 7, 2022.
EU Minister of Foreign Affairs also discussed the situation in the Western Balkans region in the context of Russia's military aggression in Ukraine and the need for enhanced engagement with partners in the region. Minister Genchovska confirmed Bulgaria's support for the European integration of all countries in the Western Balkans on the basis of their own merits.
The ministers stressed the importance of the Team Europe approach, coordination with like-minded partners and overcoming the consequences of Russia's aggression against Ukraine in setting the priorities of the EU's Global Compact initiative.
The special guests of the Council were the Minister of Foreign Affairs of Norway and Iceland. The two EU partner countries have joined the sanctions against Russia and are assisting Ukraine in its fight against Russian military aggression.
Within the Council, Minister Genchovska held a bilateral meeting with German Minister of Foreign Affairs Annalena Baerbock.