Deputy Minister Petrova opened the 18th Course in Consular Diplomacy, organized by the Diplomatic Institute and the Ministry of Foreign Affairs
11 April 2022
News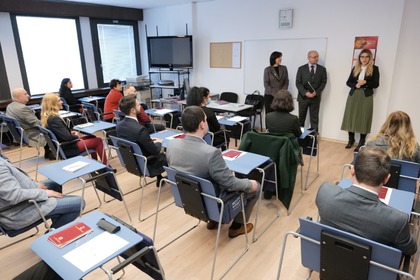 Deputy Minister of Foreign Affairs Velislava Petrova opened the 18th Course in Consular Diplomacy, organized by the Diplomatic Institute in conjunction with the Consular Relations Directorate at the Ministry of Foreign Affairs.
Within a month and a half, the 35 participants will be acquainted with the main international conventions, European law and national legislation in the field of consular activities. Before them will be discussed the problems of protection of Bulgarian children abroad, crisis management, the participation of consular services in combating organized crime, human trafficking and more.
"The work of Bulgarian consular officers abroad is extremely responsible, because they are the face of Bulgaria before the world and before Bulgarian citizens abroad," said Velislava Petrova.
The training in consular diplomacy is a mandatory pre-mandate training of the employees of the Ministry of Foreign Affairs, who will be seconded as consular officials or technical employees in the Bulgarian diplomatic and consular missions abroad.
The director of the Diplomatic Institute Tanya Mihailova also greeted the students. "The consular diplomacy course is one of the cornerstones of the Diplomatic Institute's curriculum, as it prepares those Bulgarian foreign representatives who are at the forefront of helping our citizens in emergencies and crises," she said.
The program of the course includes practical classes, and lecturers will be leading experts from the Ministry of Foreign Affairs, the Ministry of Justice, the Ministry of Regional Development, the State Agency for Child Protection, the State Agency for Refugees, the General Directorate Combating Organized Crime, SANS and other institutions relevant to the issue.