Mariya Gabriel: The talent of women entrepreneurs is an engine for economic development
09 November 2023
News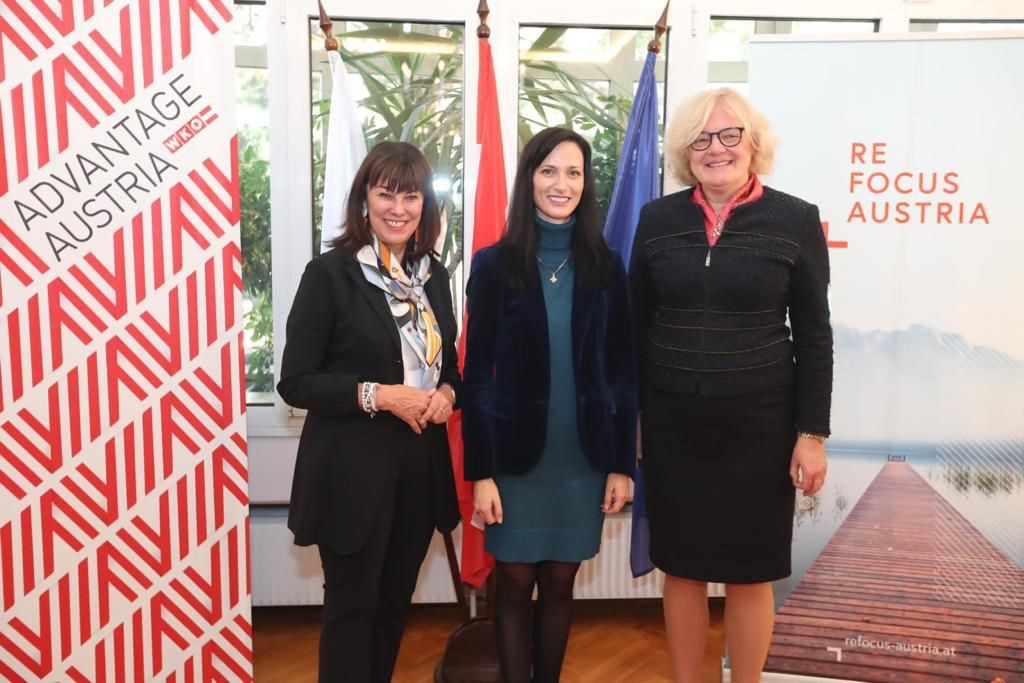 Deputy Prime Minister and Minister for Foreign Affairs Mariya Gabriel participated in an event organised by Women in Business and the Austrian Federal Economic Chamber. The event was held on the occasion of the visit of a large delegation of Austrian women entrepreneurs led by the Vice President of the Austrian Federal Economic Chamber, Ms Marta Schulz.
The conference took place at the Residence of the Austrian Embassy at the invitation of the Ambassador of the Republic of Austria H.E. Andrea Ikić-Böhm. The event was also attended by the Vice President of the Republic of Bulgaria Iliyana Yotova.
'Bulgaria is among the top three countries in Europe in terms of the number of female researchers, and when we talk about new technologies, Bulgaria is first in terms of the number of women in information and communication technologies. However, this is not a given, but means that strong support is needed for those who are already active and inspiration and support for those who have decided to follow their path,' the Deputy Prime Minister said.
Mariya Gabriel pointed out that it is important to pay attention to three aspects. First is the increase in the number of companies led by women. Secondly, the Deputy Prime Minister focused on the need for more training and programmes to develop women's leadership skills. As a third focus, Mariya Gabriel pointed to the need for more information campaigns and giving visibility to the achievements of women innovators.
'The women entrepreneurs from Austria are a good example of the role of women in job creation and economic development,' the Deputy Prime Minister said. Austria is the second largest foreign investor in Bulgaria, with an investment level of over EUR 5 billion in 2022. Approximately 350 Austrian companies operate in the country, employing nearly 300,000 people.
Mariya Gabriel welcomed the intention of Austrian companies to expand their investment presence in Bulgaria in areas such as emerging technologies and innovation through their support for the development of industrial parks and modern industrial zones.
'We need the creativity and entrepreneurial potential of women to create growth and jobs. Let us highlight the talents and strengths of women innovators and entrepreneurs, because they are changing the world around us for the better,' Mariya Gabriel added.
The Deputy Prime Minister made a proposal to organise a joint event between successful women entrepreneurs from both countries to tell their stories.