Joint Statement on the Strategic Dialogue between the United States and Bulgaria
26 September 2023
News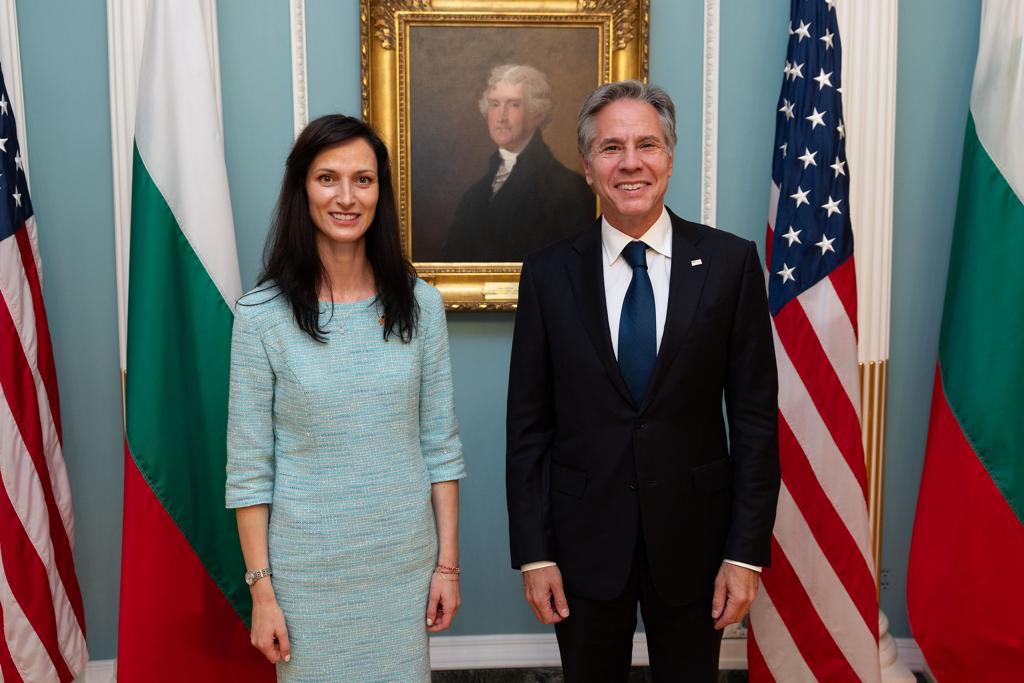 The following is the text of a joint statement by the Governments of the United States of America and Bulgaria.
On September 25, 2023, the United States and Bulgaria held the second high-level Strategic Dialogue to discuss bilateral, regional, and global issues of priority importance for both countries. The Dialogue aligned with the 120th anniversary of the start of diplomatic relations between the United States and Bulgaria, and we marked that milestone together as friends, Allies, and partners. We remain focused on advancing the following priorities:
Common Approaches to Global and Regional Issues
We stand resolutely united in support of Ukraine. Russia's unprovoked and unjustified war against Ukraine blatantly violates international law, threatens the rules-based international order, and undermines the stability of Europe, including the security of the Black Sea region. We share the goal of a secure, prosperous, and interconnected Black Sea region that is free from threats to territorial integrity, economic coercion, and malign influence.
Deepening Defense and Security Cooperation
Noting Bulgaria's strategic position in the region and within NATO, we are growing our defense partnership to improve security in the Balkans and the Black Sea region, including through our joint participation in the multinational NATO battlegroup hosted by Bulgaria. Our robust cooperation enhances NATO interoperability, advances Bulgaria's defense modernization efforts, and further develops Bulgaria's defense industrial sector.
Expanding Economic and Energy Cooperation
We noted Bulgaria's significant progress in diversifying its energy sector and further reducing its dependence on Russian energy resources. We are working together to create a more resilient energy market, expand our civil nuclear cooperation, and accelerate the transition to low-carbon and renewable energy sources. We plan to collaborate on expanding bilateral trade and investment ties by promoting innovation, adopting effective governance of new technologies, and fostering a favorable business environment, and we will consider how to expand our cooperation on emerging technology and space policy. We intend to prioritize the screening of foreign direct investments to ensure national security.
Defending Democracy and Strengthening Rule of Law
Acknowledging the importance of deepening and extending our cooperation on countering foreign disinformation and propaganda, we signed a Memorandum of Understanding on Countering Foreign Information Manipulation. We are working to achieve tangible and practical results that will help safeguard our democracies by countering the growing threat of foreign malign influence and state-sponsored disinformation. We also underscored our continuing efforts to strengthening the rule of law and ensuring judicial independence, and we intend to continue joint efforts to eradicate the scourge of trafficking in persons.
Broadening Bilateral Ties
We recognized our abiding people-to-people ties and will continue to nurture them through academic, cultural, and professional exchanges. Both sides welcomed Bulgaria's progress towards inclusion in the Visa Waiver Program, and the United States reaffirmed its support of Bulgaria's ongoing efforts to fulfill the legal requirements for admission into the program.
The Strategic Dialogue was convened by the Counselor of the U.S. Department of State Derek H. Chollet and the Deputy Prime Minister and Minister of Foreign Affairs of Bulgaria Mariya Gabriel, and included high-level representatives from both governments.