Deputy Prime Minister Maria Gabriel took part in a meeting with the heads of diplomatic missions of the countries accredited in Bulgaria from the Middle East and North Africa region
14 August 2023
News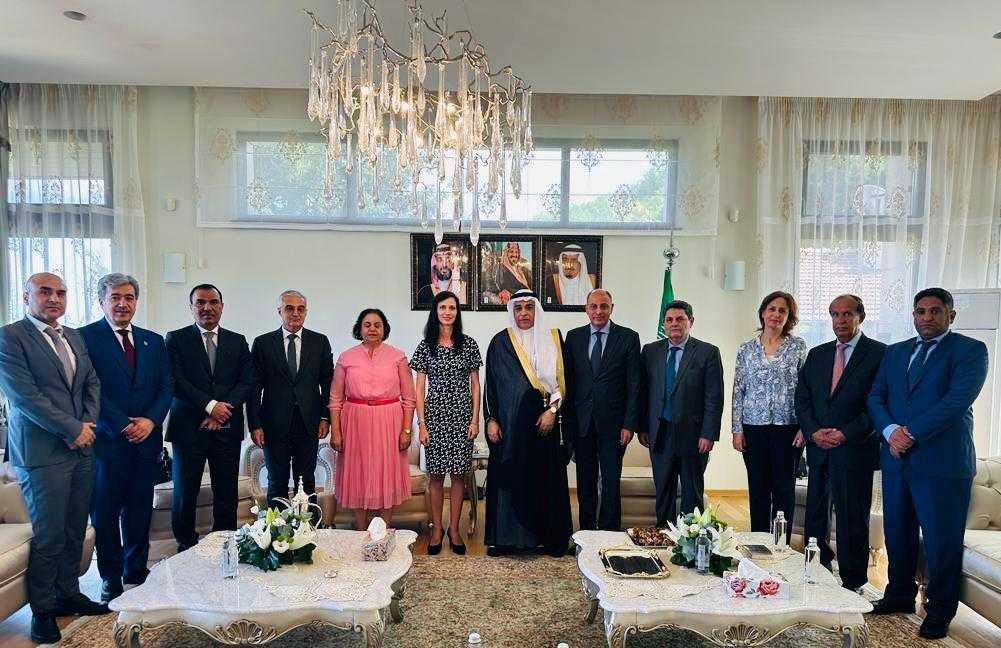 On 14 August 2023, Deputy Prime Minister and Minister of Foreign Affairs Maria Gabriel participated in a working lunch with the heads of diplomatic missions of the Middle East and North Africa (MENA) countries accredited in Bulgaria. The luncheon was organized on the initiative of the group of ambassadors from the MENA region and was hosted by H.E. Mr. Khalid Faqeeh — Ambassador of the Kingdom of Saudi Arabia to Bulgaria.
In the course of the discussion a number of significant issues in the sphere of Bulgaria's bilateral relations with the countries of this strategically important region were touched upon, as well as topical issues of regional concern. The importance for the Bulgarian government of further deepening and building on the cooperation with the countries of the MENA region, which Bulgaria considers as important partners — both nationally and Europe-wide, was underlined.
Deputy Prime Minister Maria Gabriel acknowledged the existence of significant unrealised potential in the area of trade and economic cooperation. The Bulgarian side sees opportunities for its implementation through expanding trade, deepening cooperation in the energy sector, increasing tourism and cultural exchanges, attracting direct investments in the Bulgarian economy and seeking opportunities for Bulgarian participation in investment projects in the countries of the region, as well as developing cooperation in the defense industry. Particular attention was paid to the opportunities for these traditional areas of cooperation to be built upon and expanded with mutually beneficial partnerships in the fields of innovation, digital governance and artificial intelligence. In this context, it was explained that the relevant structural units in the Ministry of Foreign Affairs have been tasked to draw up a roadmap of sorts for the development of our cooperation with the countries of the region in the sectors of shared interest, as bilateral visits at the level of foreign minister are being planned and coordinated, political consultations are being held with a number of countries in the region, and work is underway on the preparation and implementation of state visits at home and abroad.
Special attention was paid to other important issues, including: the crises in Niger, Syria and Yemen, the Middle East peace process and the EU's relations with the countries of the Middle East and Africa region as a whole. The ongoing Russian military aggression in Ukraine and the global dimensions of the consequences of this serious conflict were also discussed. In this context, special attention was paid to Bulgaria's active role in shaping the EU's Common Foreign and Security Policy, including with regard to the Middle East and Africa.
At the end of the meeting, Deputy Prime Minister Maria Gabriel pointed out that such working formats, which allow for a direct and pragmatic exchange of views on important topics of mutual interest, will be held in the future.