The Bulgarian government delegation, led by Minister Nikolay Milkov participated in the first day of the 77th session of the UN General Assembly
20 September 2022
News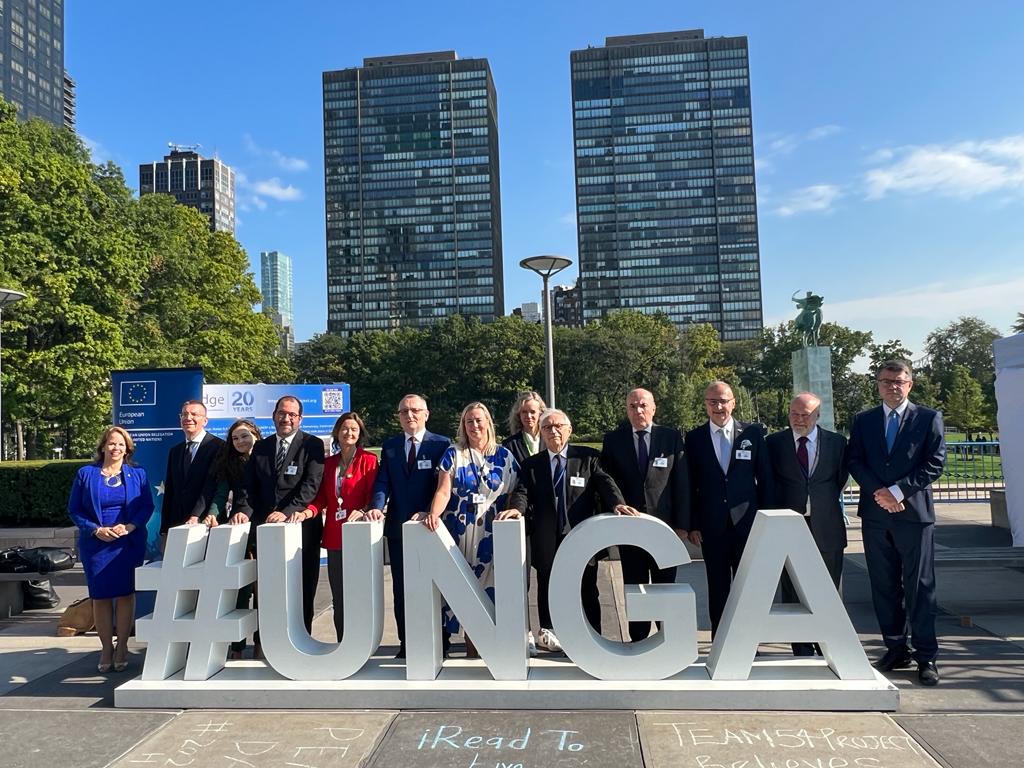 A Bulgarian government delegation, led by the Minister of Foreign Affairs Nikolay Milkov, is in New York to participate in the 77th session of the UN General Assembly. This year the theme of the General Debate is "Watershed moment: transformative solutions to interconnected challenges".
The Bulgarian delegation took part in the Education Transformation Summit. UN Secretary General Antonio Guterres opened the event.
Bulgarian President Rumen Radev took part in the meeting through a video address, who confirmed Bulgaria's constant commitment to an affordable and high quality education. He called for greater international cooperation and emphasized the possibilities for the development of digital learning.
The Permanent Representative of Bulgaria to the UN, Ambassador Lachezara Stoeva, in her capacity as President of the Economic and Social Council of the United Nations (ECOSOC), also made a speech. She stressed that transforming education and unleashing human potential is key to the overall progress of societies.
At the UN headquarters, the Bulgarian delegation also took part in a meeting dedicated to the urgent implementation of the Sustainable Development Goals. The focus of the discussion was the unprecedented global crisis that arose as a result of the war in Ukraine, the COVID-19 pandemic, climate change, growing threats to the global economy, and more.
Our first diplomat Nikolay Milkov also took part in an informal meeting of the ministers of foreign affairs of the EU member states, the focus placed on the global consequences of the war in Ukraine, including high energy and food prices.
On this first day of his visit to the USA, Minister Milkov and his delegation held meetings with representatives of American Jewish organizations. The discussion was centered on the fight against anti-Semitism and the commemoration of the upcoming 80th anniversary of the rescue of Bulgarian Jews in World War II, for which a National Plan of Celebrations is being planned for 2023. The situation in Ukraine, the energy crisis and the situation in the Middle East were also discussed.
The representatives of the Jewish organizations appreciat highly the dialogue with Bulgaria, which contributes to the deepening of the Bulgarian-American strategic partnership. Representatives of the American Jewish Committee, B'nai B'rith, the National Coalition to Support Eurasian Jewry, the Anti-Defamation League and the World Jewish Congress participated in the discussions.
The Bulgarian foreign minister also held a meeting with the first diplomat of Kuwait - Sheikh Ahmed Nasser Al-Mohammed Al-Sabah. An Agreement on specific actions in the context of the upcoming 60th anniversary of the establishment of diplomatic relations between the two countries in 2023 was reached. The upcoming anniversary provides an excellent opportunity to improve economic ties and intensify cooperation in areas such as high technology, communications, medicine and trade.