President of Albania Ilir Meta honoured Ambassador Raychevski with the title "For Special Civil Merits" 20 July 2022
20 July 2022
News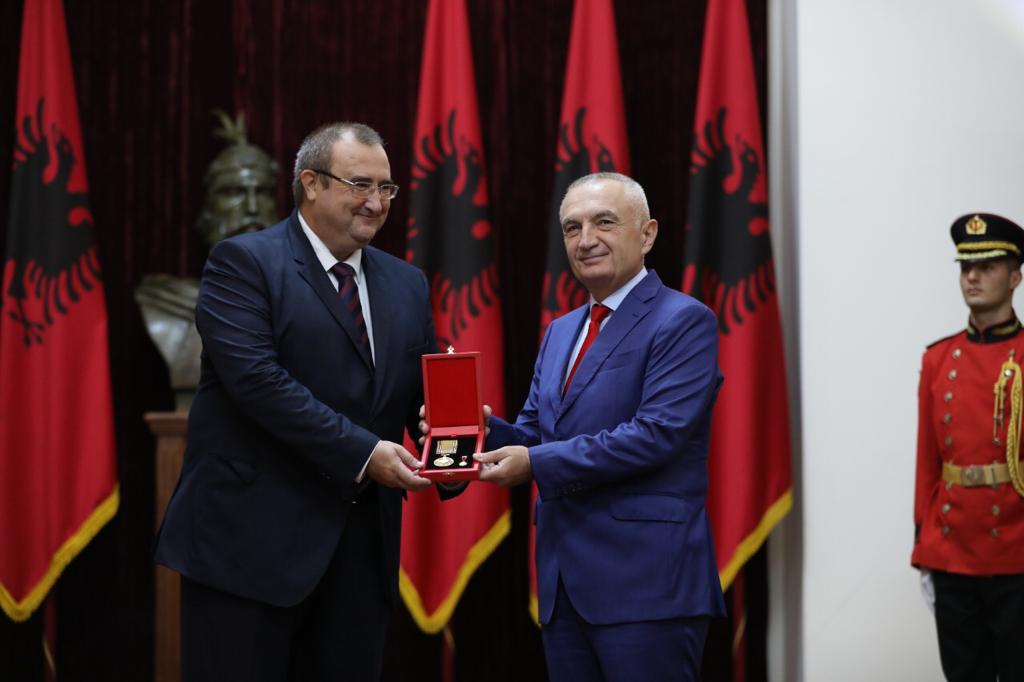 At an official ceremony on 14 July, the President of the Republic of Albania Ilir Meta honoured the Ambassador Extraordinary and Plenipotentiary of the Republic of Bulgaria to Tirana, Republic of Albania Momchil Raychevski with the title "For Special Civic Merits". The award was given "in appreciation of his diplomatic activity and special contribution to the strengthening of bilateral relations, as well as for his decisive and continuous support for our country's European integration process. With gratitude for his motivating engagement on important bilateral and regional issues." The ceremony at the Presidential Palace was attended by MPs, ambassadors, advisors from President Meta's Office, prominent representatives of the Bulgarian community in Albania and journalists.
At the award ceremony, President Meta pointed out that Ambassador Raychevski, during his diplomatic mission in Albania since August 2018, had contributed to the visible progress in the relations between the two countries. He expressed appreciation for the important support Bulgaria continues to provide to Albania in the EU integration process. In his words, relations between the two countries and peoples are traditionally friendly, and in recent years, they have deepened not only bilaterally, but also internationally. He highlighted the cooperation between Albania and Bulgaria within NATO, OSCE and the UN.
On his part, Ambassador Raychevski pointed out that the Republic of Bulgaria has always been and is committed to the European future of the Western Balkan countries. He stated that during the Bulgarian Presidency of the Council of the EU, Bulgaria has put on the agenda the importance of enlargement, but has also focused on the importance of good-neighbourly relations, trust and respect in the region. The Bulgarian diplomat recalled the difficult challenges that both countries have faced together, helping each other, such as the earthquake in November 2019, the COVID-19 pandemic, the war in Ukraine. Ambassador Raychevski concluded that very soon, Albania will take the next important step in joining our European family and Bulgaria, together with our European partners, will continue to support it on this path.