Minister Teodora Genchovska: We celebrate 143 years of high professionalism and devotion to the national cause of Bulgaria and to the pursuit of building friendly relations with the world around us
19 July 2022
News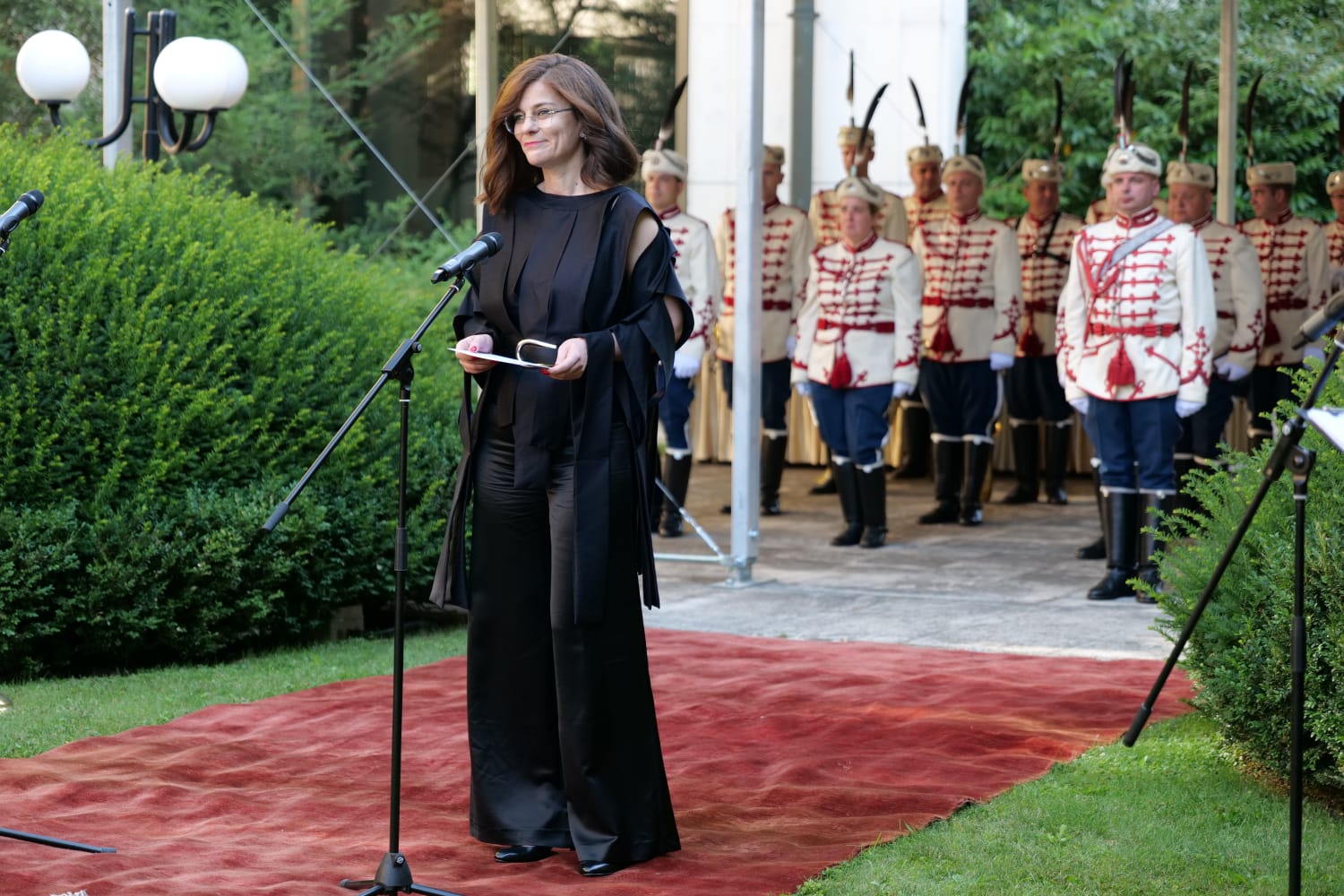 Today we celebrate 143 years of high professionalism and devotion to the national cause of Bulgaria and to the pursuit of building friendly relations with the world around us. This is what Minister of Foreign Affairs Teodora Genchovska said in her address at the festive reception on the occasion of the Bulgarian Diplomatic Service Day, which was held at the Boyana Residence.
Minister Genchovska expressed her gratitude to the generations of Bulgarian diplomats who selflessly served the Motherland in no less difficult conditions. "Over the past seven months, as we have worked through parallel crises, without additional resources, we have drawn mostly on their inherited experience and knowledge. I can say with undisguised pride that we did a decent job and I hope that we have not disappointed them", our foreign minister stressed.
She thanked the employees of the Ministry of Foreign Affairs for the professionalism and diligence they demonstrate in their work and defined as key their efforts and expertise in achieving the foreign policy priorities and addressing the challenges. "It is no secret that the main challenge for the ministry from the beginning of my mandate was the issue of North Macedonia. I would therefore like to start with a special acknowledgment to the team I have relied incessantly. Relying on the expertise built up over decades, together we managed to protect the national interest in extremely complex political conditions," said Teodora Genchovska.
She also highlighted the role of Bulgarian diplomats involved in the war in Ukraine and in guaranteeing our national security. "In the past months, we have participated in important decisions to strengthen the defence potential of the Eastern flank of the Alliance, we have accepted Sweden and Finland into the Atlantic family and we have supported the European path of Ukraine, Moldova and Georgia," Minister Genchovska underscored.
In her address, our Foreign Minister stressed that the ever-increasing demands on Bulgarian foreign policy require an effective Diplomatic Service. She stressed the need to attract young and educated people, as well as to ensure adequate remuneration for highly qualified work in the Ministry of Foreign Affairs or at least to bring the average remuneration in line with that in other state institutions. "I regret that during these seven months my repeated attempts to secure a substantial increase in the Ministry's budget have not met with the understanding of the Council of Ministers. Without the state allocating the necessary funds for its foreign policy, it cannot rely on optimal protection of its interests", Minister Genchovska said.
Guests at the event were Prime Minister Kiril Petkov, Vice President of the Republic of Bulgaria Iliana Iotova, Deputy Speaker of the National Assembly Rositsa Kirova, His Majesty Simeon Saxe-Coburg-Gotha, Prime Minister for the period 2001-2005, ministers, MPs and MEPs, former heads of the ministry, representatives of the diplomatic corps in Bulgaria, the leadership of the Association of Honorary Consuls in Bulgaria and others.
More photos