Invitation to participate in a summer school on anti-corruption for students from Eastern Europe, online, from 9 to 15 May 2022
06 April 2022
News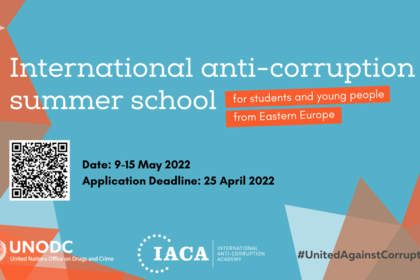 Invitation to participate in a summer school on anti-corruption for students from Eastern Europe, which will be held virtually on an online platform from 9 to 15 May 2022.
The training is organized by the United Nations Office on Drugs and Crime and the International Academy against Corruption (IACA) and is designed for students and young people between 18 and 28 years old. Candidates can register for participation directly on the link specified in the invitation with the deadline for registration April 25, 2022.
The project is funded by Austria and the range of countries invited to participate is determined by the requirements for providing development assistance to the Austrian country.