The Foreign Minister Presented Current Topics on the International Agenda
27 January 2022
News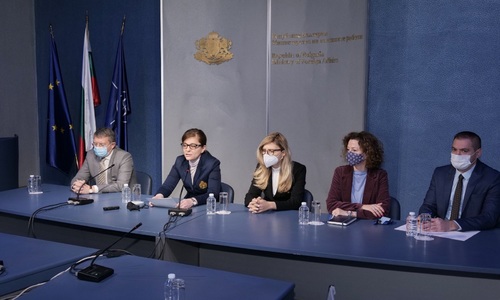 The Minister of Foreign Affairs Teodora Genchovska acquainted the media with current issues of international politics, including the efforts to de-escalate the tensions caused by Russia and the Bulgarian position on the statement made by NATO Secretary General Jens Stoltenberg. She welcomed the NATO-US proposals announced by Stoltenberg to the Russian side to continue the dialogue and find a solution through diplomatic means.
"The idea of these proposals is to continue the dialogue in the NATO-Russia Council and to find opportunities for de-escalation of tensions. Everyone expects this to be achieved through diplomacy", the minister added.
Among the topics included in the Alliance's proposal, she highlighted transparency and arms control, as well as risk reduction measures and a more responsible approach to the two countries' actions in space.
Our Foreign Minister informed about the Foreign Affairs Council held on January 24, 2022, emphasizing the united position of the EU Member States on reducing tensions through diplomatic means. The meeting discussed the possibility of organizing a mission on the EU's Common Security Policy for Defense in Ukraine. The Minister of Foreign Affairs of Ukraine Dmytro Kuleba was invited to participate in the Council in February, and the Minister of Defense of Ukraine Oleksii Reznikov was invited to take part in the Council on Foreign Affairs and Defense in March.
Minister Genchovska also touched upon the topic of defense capabilities, emphasizing that it should go hand in hand with the efforts of the diplomatic front. "For Bulgaria, building adequate defense capabilities is extremely important to be a worthy country - a member of the Alliance", said the Foreign Minister.
Regarding the evacuation of employees of our foreign missions in Ukraine, Minister Genchovska said that at the moment there is no such desire on their part. She stressed that the evacuation plans have been updated and Bulgaria has the opportunity to evacuate if necessary with its own forces and resources.
The Foreign Minister informed about the current development of the bilateral relations after the visit of the governmental delegation of the Republic of Northern Macedonia at the beginning of the week.
"In practice, we have restarted the dialogue on political issues. We expect there to be upgrades and results on horizontal policies", said Minister Genchovska, emphasizing that the Ministries of Foreign Affairs of the two countries work in close coordination.
Bulgaria has renewed its proposal to protect the airspace of the Republic of Northern Macedonia, as well as to assist the country's mission in Ukraine in case of need for evacuation, said the Foreign Minister.
At the end of the briefing, Minister Genchovska introduced to journalists the three Deputy Ministers - Velislava Petrova, Irena Dimitrova and Vasil Georgiev.