Minister Svetlan Stoev received the Ambassador of Azerbaijan
29 October 2021
News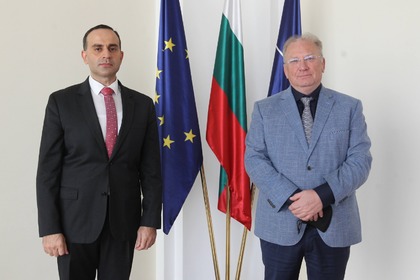 The Minister of Foreign Affairs Svetlan Stoev received the Ambassador of Azerbaijan Hussein Jalal Oglu Husseinov, with whom he discussed topics of bilateral relations, including in the field of economy, culture, transport and energy.
Bulgaria attaches great importance to relations with Azerbaijan and hopes for their further strengthening and deepening. The Bulgarian side highly appreciates the existing active political dialogue with Azerbaijan, which is developing in an atmosphere of friendship and good will.
During the meeting, mutual interest was expressed in deepening bilateral cooperation and strengthening trade and economic relations.
"There is a significant potential for cooperation in the field of energy and energy supply ", stressed the Bulgarian Foreign Minister. The supplies of Azerbaijani gas and natural gas from the Southern Gas Corridor are an integral part and condition for diversification of the sources and routes for natural gas supply to Bulgaria.
The Bulgarian side also expressed interest in deepening cooperation in the field of transport and communications with Azerbaijan. According to Minister Stoev, the two countries should take advantage of their geographical location to build and further improve infrastructure between Europe and Asia. The Baku-Tbilisi-Kars railway link, which started in October 2017, also provides new opportunities for Bulgaria and the EU member states in the trade and economic aspect.
For his part, Ambassador Husseinov expressed a desire for the Bulgarian people to learn more about Azerbaijan, the culture and history of the country, noting that contacts between the two peoples are of particular importance.
In conclusion, the Bulgarian Foreign Minister assured Hussein Jalal Oglu Husseinov that he could count on the assistance of Ministry of Foreign Affairs of the Republic of Bulgaria on all topics of common interest.