Deputy Minister Rumen Aleksandrov greeted the participants in the Balkan Forum 2021
24 September 2021
News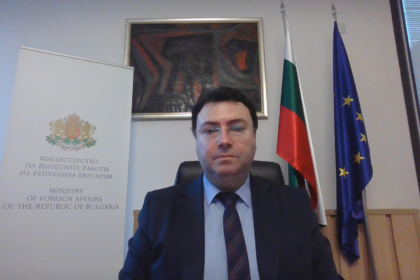 Deputy Foreign Minister Rumen Aleksandrov greeted the participants in the Balkan Forum 2021 in a video address and wished them success in their work. He pointed out the fact that the event this year takes place within the framework of the South-East European Cooperation Process (SEECP), which was initiated in 1996 in Sofia.
This year's edition of the Balkan Forum was held under the aegis of the SEECP, under the motto "Sustainable Development after COVID-19". The forum was held as an event on the calendar of the Greek Presidency of the Process (July 2021 - June 2022).
In his video address, Deputy Minister Aleksandrov pointed out that the pandemic has deepened the economic and social differences in our societies. The severe consequences of COVID-19 also pose a serious threat to the implementation of the 2030 Agenda for Sustainable Development, he added.
In his speech, Rumen Aleksandrov stressed that regardless of the crisis that hit the world in 2020, there are prerequisites for optimism. According to him, global and regional cooperation, as well as solidarity, are essential in the fight against the pandemic, as our societies have proved that they can work together at critical moments. In this positive context, the Deputy Minister also pointed out the fact that in the midst of the crisis our country has provided medical equipment and food products to the peoples of the Western Balkans.
Deputy Minister Aleksandrov also announced the Regional Ministerial Conference organized by Bulgaria and the UN Population Fund with a high-level dialogue on demographic sustainability in Europe and Central Asia: "Pathways for Societies to Thrive in a World of Rapid Demographic Change", which will be held in Sofia on 1-2 December 2021.
In conclusion, he pointed out that only through cooperation and joint efforts will we be able to meet the challenges of today and tomorrow.