Our Guests Can Now Enjoy New Masterpieces of the MFA's Art Collection
02 January 2021
News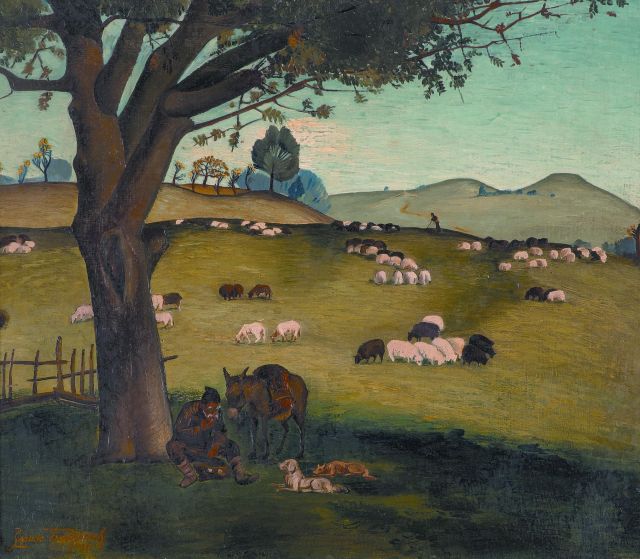 The State Institute for Culture under the Minister of Foreign Affairs has rotated the art works in the official halls and reception areas at the Ministry and Bulgaria's diplomatic missions, so that our guests could get familiar with the variety of styles and manners of the masterpieces in our art collection.
The art collection has over 3,000 works that have travelled and "shared" in the diplomatic routine at the MFA and the Bulgarian diplomatic missions overseas.
The collection was started back in the 1960s by Communist Foreign Minister Ivan Bashev.
Since then, the works of Zlatyu Boyadzhiev, landscape masters Alexander Mutafov, Petko Abajiev and Ivan Trichkov can be seen at our buildings in Sofia, at the embassies and residences.
The collection also includes numerous landscapes from Sofia and its environs, dating to the 1940s, by Nikola Kozhuharov, famous for his historical compositions, as well as by renowned classics: Vasil Stoilov, Bencho Obreshkov, Nayden Petkov, Dechko Uzunov. The collection also features works by their students and by the most prominent artists of the younger generation of the 1960s who contributed significantly to shaping the character of contemporary Bulgarian art: Svetlin Roussev, Vladimir Goev.
The Bulgarian diplomatic mission in Paris is particularly prominent in this respect. Bulgaria acquired the Louis XV style building in 1946. In the ensuing decades, it extended hospitality to noted Bulgarian artists. Zlatyu Boyadzhiev did a series entitled Seasons and his iconic Two Weddings expressly for the grand salons.
The State Institute for Culture was established in 2005, and it took over the care of the works in the MFA art collection.
The art works adorning the Ministry's corridors and halls include Ivan Tabakov's Autumn at the Seaside, Pencho Balkanski's Towards the Fields, Nikola Kozhuharov's Kavala and Papaz Gyol, Vladimir Goev's Balchik, Alexander Mutafov's Seascape, Ivan Trichkov's Shepherd's Shed, Zlatyu Boyadzhiev's Under the Walnut Tree, Nayden Petkov's Balchik, Vasil Stoilov's Chokmanovska Madonna, Dechko Uzunov's Balchik, Bencho Obreshkov's Portrait and Shepherd Boy, Anastas Staykov Village House Room, Nayden Petkov's At the Field, Svetlin Roussev's Road in the Rhodope, Dimitar Kirov's Music II, Asen "Shopa" Nikolov's Warf in Sozopol, Yordan Katsamunski's Flowers, and Nicola Taneff's Balchik.