Ekaterina Zaharieva congratulates Bulgarian community in Barcelona on consulate opening
22 May 2019
News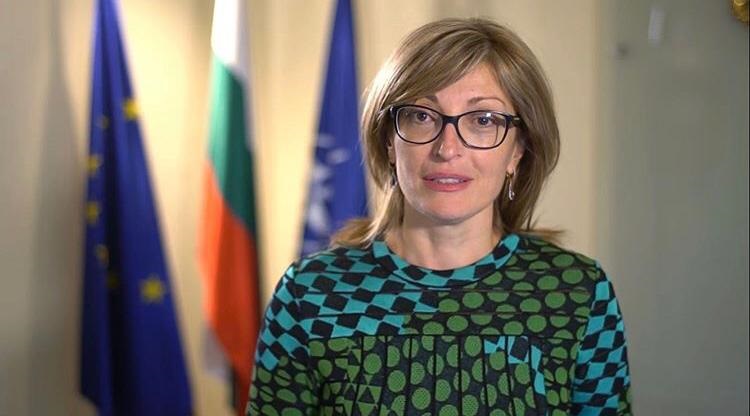 Deputy Prime Minister and Minister of Foreign Affairs Ekaterina Zaharieva congratulated the Bulgarian community in Barcelona and acknowledged the Bulgarian expats' proactive civic stand that led to the scheduled opening of a staff consulate in that Spanish city on August 1.
'I wish to specifically acknowledge your civic stand that made possible a Bulgarian consulate in Barcelona, which will start work on August 1 of this year. Without such a proactive civic stand it would also be more difficult for us to keep alive the spirit and our closeness with the homeland when we live abroad,' said Ekaterina Zaharieva in a video address to the Bulgarian community in Barcelona. Our Foreign Minister underscored that the opening of the consulate will make the bond of Bulgarian expats with their homeland even stronger while bringing Bulgarian administrative services closer to our fellow nationals living in that Spanish city.
The video address was streamed during a meeting of Deputy Foreign Minister Georg Georgiev with the Bulgarian community in Barcelona. Georgiev is currently there to help with the preparations for the opening of the new consulate.
'The protection and care for Bulgarian expats is one of the key priorities for Bulgaria's foreign policy. Therefore the government will continue to work hard for improving the interaction of the Bulgarian State with its citizens residing abroad,' said Georgiev to the assembled Bulgarians. He pointed out that this aspiration was behind the decision to open a consulate in Barcelona.
In the course of the meeting Georg Georgiev informed his audience about the deadlines for the opening of the Bulgarian consulate and took questions from the floor.
The Consulate in Barcelona will have consular jurisdiction over the territories of the autonomous communities of Catalonia and Aragon. According to the National Statistical Institute of the Kingdom of Spain, towards 2018 the number of Bulgarian nationals registered as permanent residents of the country stood at 125,244. Of those, 11,239 persons, or 9% of the Bulgarian expat community, reside in Catalonia. Apart from that, more than 30,000 Bulgarian tourists visit Barcelona on an annual basis.