Ekaterina Zaharieva Presents NATO's Youth Ambassadors with Awards
20 December 2018
News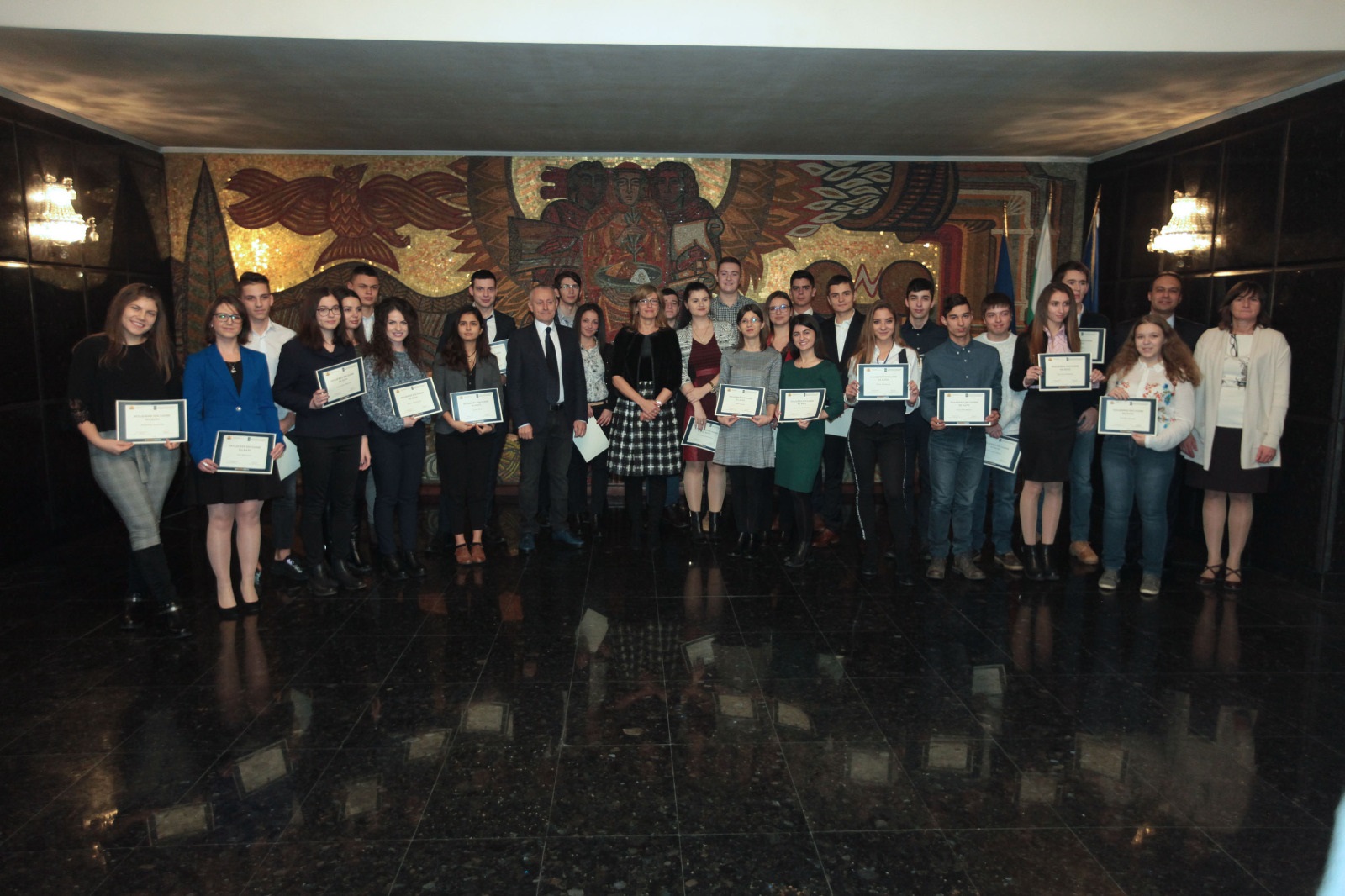 Deputy Prime Minister and Minister of Foreign Affairs Ekaterina Zaharieva presented NATO's youth ambassadors in Bulgaria with awards at a ceremony held today at the Ministry of Foreign Affairs.

Minister Zaharieva called on youth ambassadors, who are aged between 15 and 29, to use what they have learned to combat fake news and misinformation concerning NATO in Bulgaria. 'NATO is not a union that aims at inciting wars; quite the contrary, it is a union that protects democratic values. A union whose main purpose and mission is to stop the incitement of military conflicts. Bulgaria is stronger, more stable and more prosperous because it is a member of NATO,' Minister Zaharieva stated. 'I very much wish for people like you to truly become conveyors of these messages,' she went on to highlight.

The 29 NATO youth ambassadors, who were selected following a national essay and video competition, were awarded a certificate by the Atlantic Club of Bulgaria.

Minister Zaharieva thanked the Atlantic Club of Bulgaria and its President, Mr. Solomon Passy, who attended the ceremony, for the NATO Youth Ambassadors initiative. The Deputy Prime Minister announced that the courtyard of the new NATO headquarters in Brussels would feature an old Trabant car of Mr. Passy's (Mr. Passy was Bulgaria's Minister of Foreign Affairs between 2001 and 2005).

NATO Youth Ambassadors is an initiative launched by the Atlantic Club of Bulgaria and the Bulgarian Euro-Atlantic Youth Club. The mission of youth ambassadors is to raise awareness about the Alliance and Bulgaria's participation in it by organising a series of discussion and awareness activities targeting their peers. Youth ambassadors come from all over Bulgaria: Sofia, Varna, Burgas, Montana, Plovdiv, Dobrich, Tutrakan, Kardzhali, Sliven, and Pazardzhik.

In 2019, NATO's youth ambassadors are set to organise a series of initiatives on the occasion of the 70th anniversary of the establishment of the North Atlantic Treaty Organisation and the 15th anniversary of Bulgaria's accession to the Alliance. The NATO Youth Ambassadors initiative is part of the Alliance's communications effort entitled We Are NATO, which aims at raising awareness among youth people as regards the organisation, Bulgaria's role and its contribution to it, and the benefits of the country's participation in the collective defence system.

The Ministry of Foreign Affairs was the catalyst for Bulgaria joining the campaign and serves as its national coordinator.