Deputy Minister Georgiev participated in the meeting of the EU General Affairs Council
21 June 2022
News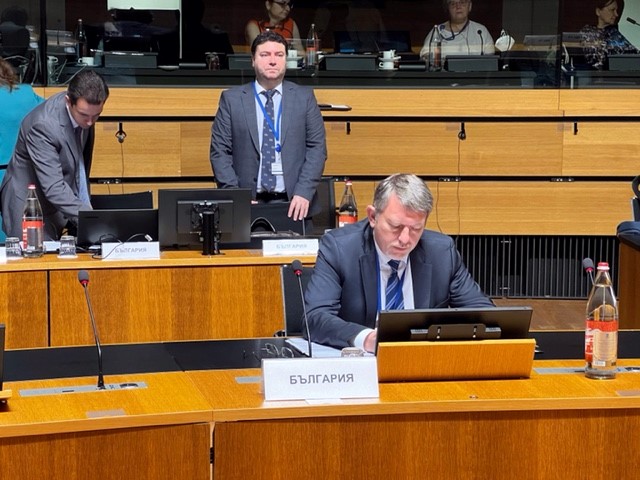 The EU General Affairs Council met today in Luxembourg. The agenda of the meeting included an exchange of views on the draft conclusions for this year's European Council on 23 and 24 June. The draft conclusions cover the topics of "Wider Europe", Ukraine, the EU membership applications of Ukraine, Georgia and the Republic of Moldova, the Western Balkans, economic issues and the follow-up actions to the Conference on the Future of Europe. The French presidency of the Council of the EU has proposed the creation of a European political community to respond to the urgent geopolitical needs resulting from the Russian aggression against Ukraine. The future community will be open to all European countries sharing common democratic values. "We see this initiative as an opportunity to bring together European countries that share common values and principles to achieve stability, preserve peace and prosperity on the continent. At the same time, a European political community cannot replace the EU enlargement policy", the Bulgarian Deputy Minister of Foreign Affairs noted in his statement on the issue. In the part on Ukraine, the ministers reaffirmed their support for the provision of financial aid in response to Ukraine's urgent needs and for the country's post-conflict reconstruction.
"Bulgaria is grateful for the efforts of the French Presidency to reflect the priority elements for Bulgaria in the draft Negotiating Framework for North Macedonia. We have consistently maintained the position that credible safeguards are needed to ensure compliance with the Treaty of Friendship and Good-Neighbourliness between the two countries. Guaranteeing the rights of Bulgarians, in particular by including them in the constitution of North Macedonia, is a condition for starting membership negotiations", Deputy Minister Vasil Georgiev said. He imposed a parliamentary reservation on the text in connection with the need for the Bulgarian Parliament to pronounce on the proposal of the rotating presidency of the Council. Bulgaria supports the granting of candidate country status to Bosnia and Herzegovina upon fulfillment of the conditions for this and the achievement of visa liberalisation for Kosovo.
Ministers agreed on the granting of candidate status for EU membership to Ukraine and the Republic of Moldova. "Bulgaria supports the European perspective for the three countries and granting the status of candidates for EU membership to Ukraine and the Republic of Moldova. At the same time, each country should comply with the established procedures and be evaluated on the basis of its own merits," Deputy Minister Vasil Georgiev stressed.
The Council addressed the next steps following the conclusion of the Conference on the Future of Europe, EU-UK relations, the European Semester and the draft Regulation on the transparency and targeting of political advertising.