The Ministers of Foreign Affairs of the Republic of Bulgaria and the Republic of Northern Macedonia discussed the current state of the political dialogue
24 January 2022
News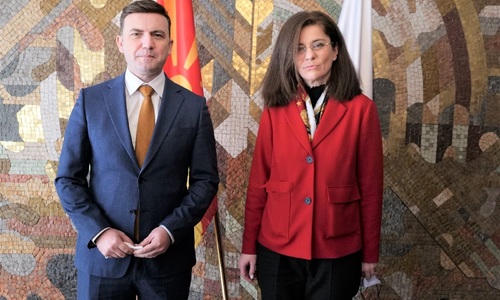 The Ministers of Foreign Affairs Teodora Genchovska and Bujar Osmani met in Sofia today, January 24, just before the start of the Second Joint Session between the Governments of Bulgaria and Northern Macedonia.
The two top diplomats expressed satisfaction with the intensification of the dialogue in recent weeks, as well as confidence that the upcoming meeting between the governments will contribute to deepening the positive dynamics in relations.
They welcomed the initiative to set up sectoral working groups as a tool to build on political dialogue and a tool to identify the practical benefits of more active co-operation between Bulgaria and Northern Macedonia.
The meeting reviewed the current state of political dialogue and bilateral relations, including in the context of the implementation of the Treaty of Friendship, Good Neighbourliness and Cooperation of 2017. The response received in December 2021 from Northern Macedonia to Bulgaria's proposals on the 5 + 1 package for political issues was also discussed.
The foreign ministers agreed that direct and intensive contacts between the two institutions are the right way to find mutually acceptable solutions to open issues.