NATO foreign ministers reaffirm Alliance's unity and solidarity in meeting security challenges
07 January 2022
News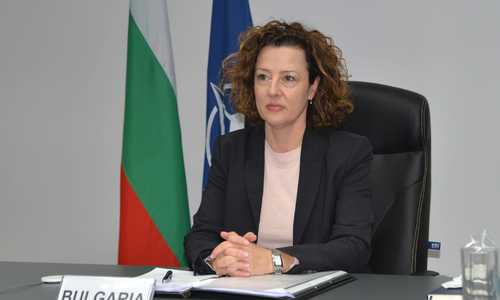 NATO foreign ministers discussed today in an emergency video conference a heightened gathering of Russian troops on the border with Ukraine, as well as other aspects of European security.
On the Bulgarian side, Deputy Foreign Minister Irena Dimitrova took part. During the meeting, she stressed the need for de-escalation measures by Russia. The forthcoming meetings with Russia in various formats, including the NATO-Russia Council meeting on 12 January 2022, are steps in the right direction.
Deputy Minister Dimitrova also said that there could be no compromise with the fundamental principles and documents of European security. She also reaffirmed the key importance of unity and solidarity in the Alliance, including through the implementation of all measures to strengthen collective defence and deterrence on NATO's Eastern flank.
During the meeting, the foreign ministers also stressed the strengthening of commitment to partners Georgia and Ukraine, as well as close coordination with the EU.