In Skopje, Ekaterina Zaharieva Backs Bulgaria-Funded Environmental Initiative
10 March 2020
News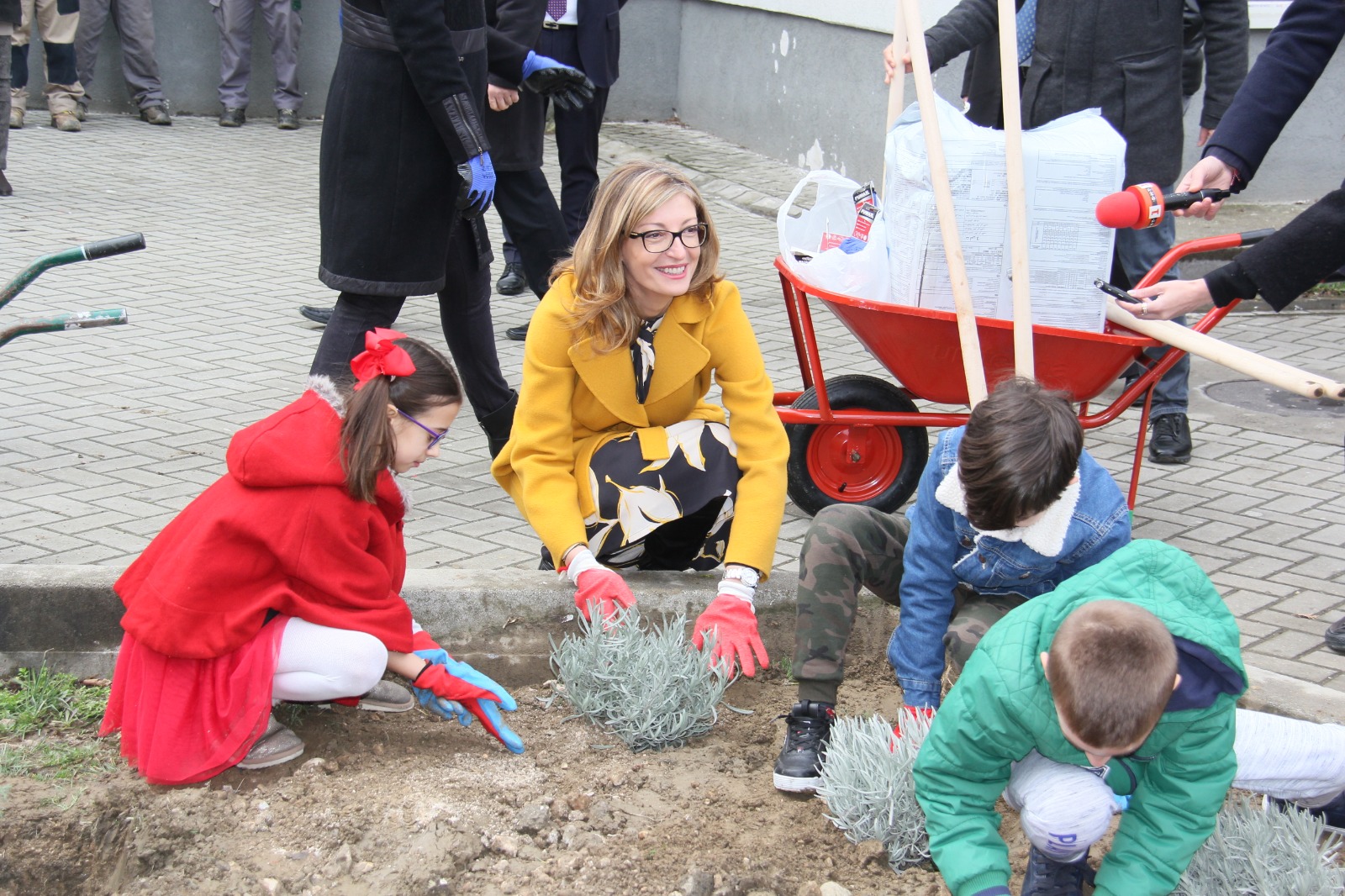 Deputy Prime Minister and Minister of Foreign Affairs Ekaterina Zaharieva, Neser Nuredini, caretaker Minister of Environment and Planning, teachers and children from the Dimitar Miladinov School in Skopje joined an initiative for planting trees on the school grounds today as part of an environmental project funded under the official Bulgarian development assistance.
This school's building is also home to the Bulgarian Weekend School Hello. This school came up with the initiative for a Bulgarian-funded project entitled Future Without Plastics: Developing Social Responsibility in Children and Young People to Protect the Environment and Ambient Air Quality in the Republic of North Macedonia.
"Today, we took part in a very important project that aims to educate children that all of their actions determine what environment they are going to live in. It is of paramount importance to engage the youngest children. This project involves protecting air quality and teaching young children by planting a park with trees and also via educational programs," Deputy Prime Minister Zaharieva said.
The project is estimated at BGN 52,988 and is aimed at the young generation. It will cover most of Skopje's schools. More than 200 trees will be planted and presentations on environmental protection will be made in five schools in the capital of the Republic of North Macedonia.
Ilyana Atanasova, Principal of the Zdravey Bulgarian Sunday School, thanked the Bulgarian government and the local authorities for their support for the projects funded within the framework of Bulgarian official development assistance. Bulgarian funding was used for repairs to the facade of the Dimitar Miladinov School, which made the building energy efficient.
Representatives of Skopje's Centar Municipality and diplomats from the Bulgarian Embassy joined the initiative today.
Deputy Prime Minister Zaharieva is in Skopje for a meeting of the foreign ministers of the countries of the Berlin Process for the Western Balkans, which she is set to co-chair together with Nikola Dimitrov. The meeting, which is due to start later today, is held within the framework of the first joint presidency of the Berlin Process held by Bulgaria and the Republic of Northern Macedonia in 2020.