Bulgaria and Jordan Work Together for Lasting Peace in  the Middle East
20 August 2019
News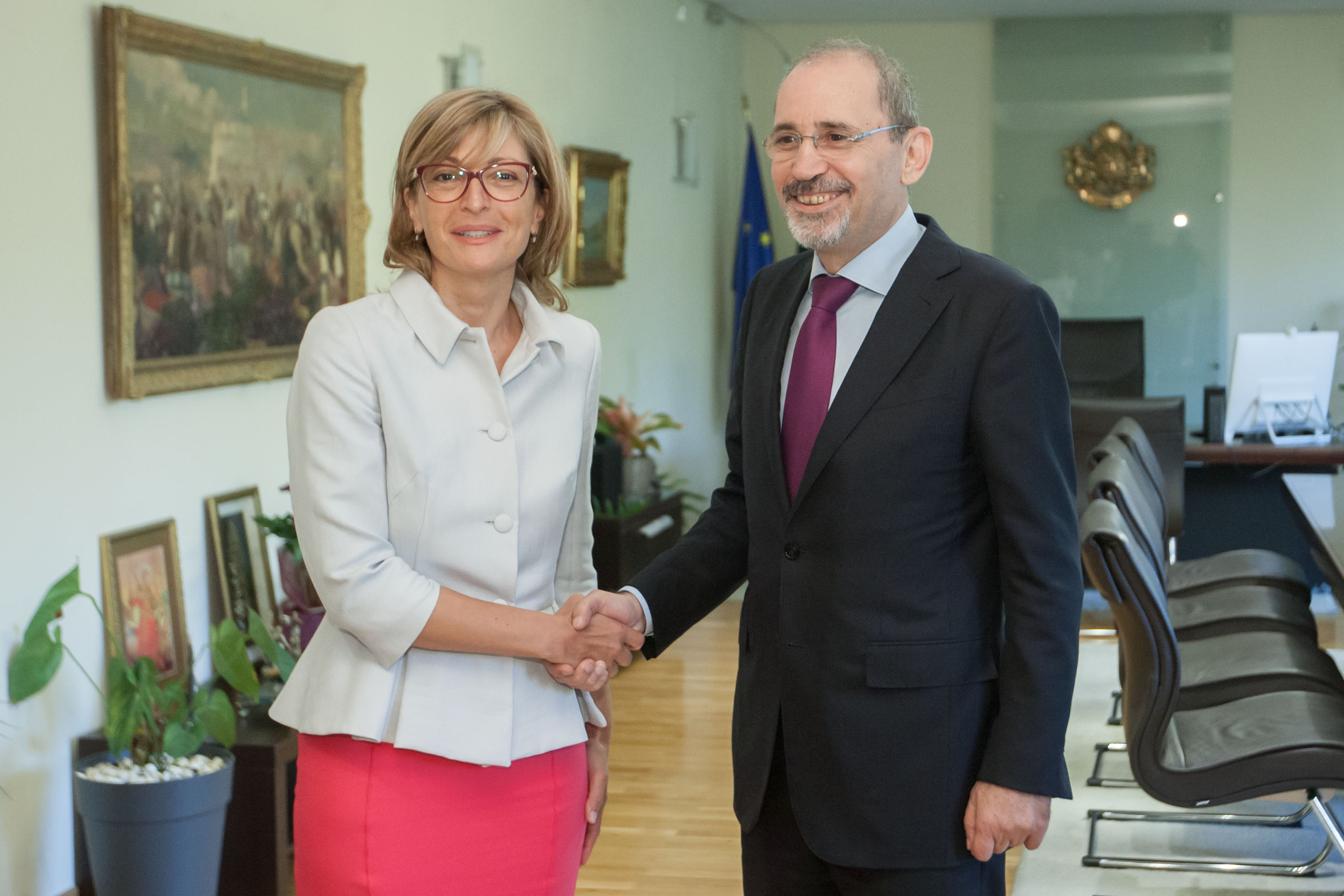 Deputy Prime Minister and Minister of Foreign Affairs Ekaterina Zaharieva received the Minister of Foreign Affairs and Expatriates of the Hashemite Kingdom of Jordan Ayman Al Safadi. They discussed opportunities for exchanging experience and cooperation in the fight against radicalism.
"We can struggle together for the achievement of lasting peace in the Middle East," Minister Zaharieva said. She emphasised that Bulgaria supports King Abdullah II's Aqaba Process Initiative, which focuses on international and regional coordination and cooperation in combating terrorism, extremist ideologies and radicalisation. "Bulgaria and Jordan can effectively share experience in this sphere, which would facilitate future joint action," the Bulgarian Deputy Prime Minister stressed.
Ayman Al Safadi, who is the first Jordanian Foreign Minister to visit this country, described Bulgaria as a good partner in this struggle and thanked for the support it provides in this process.
"We can take advantage of the Bulgarian Presidency of the Berlin Process to establish closer cooperation with the Aqaba Process, to map out specific steps addressing the problems in the Middle East," the chief Bulgarian diplomat added.
During the meeting, the two ministers signed an agreement exempting nationals of the two countries who hold diplomatic and service passports from visa requirements. The agreement will ease contacts between the foreign ministries and the state administrations and will help invigorate bilateral relations.
The two also discussed a future promotion of trade and economic relations between the two countries. Minister Zaharieva noted that the Joint Commission for Economic Cooperation will hold its first session early next year, which will come complete with a business forum. She singled out tourism, high technologies, pharmaceuticals and food processing as priority areas for the pursuit of cooperation. Minister Al Safadi said that Jordan, too, desires to strengthen its economic contacts with Bulgaria, and he highlighted the potential of areas like tourism and high technology, which will facilitate a further increase of closeness in future.
The Jordanian nationals who have completed their higher education in this country are another factor to increase the closeness between the two countries. "There are 1,500 Jordanians who have graduated from Bulgarian higher educational establishments: they are Bulgaria's strongest ambassadors in Jordan," Zaharieva said. She stressed the importance of the agreement on education and science, signed last year, for the future promotion of cooperation between Bulgarian and Jordanian universities. The Deputy Prime Minister emphasised that work is underway on a project which will enable Bulgarian universities to provide high-quality higher education in Bulgaria to citizens of Jordan.