Ekaterina Zaharieva Confers with her Slovak Counterpart Miroslav Lajčák
20 June 2019
News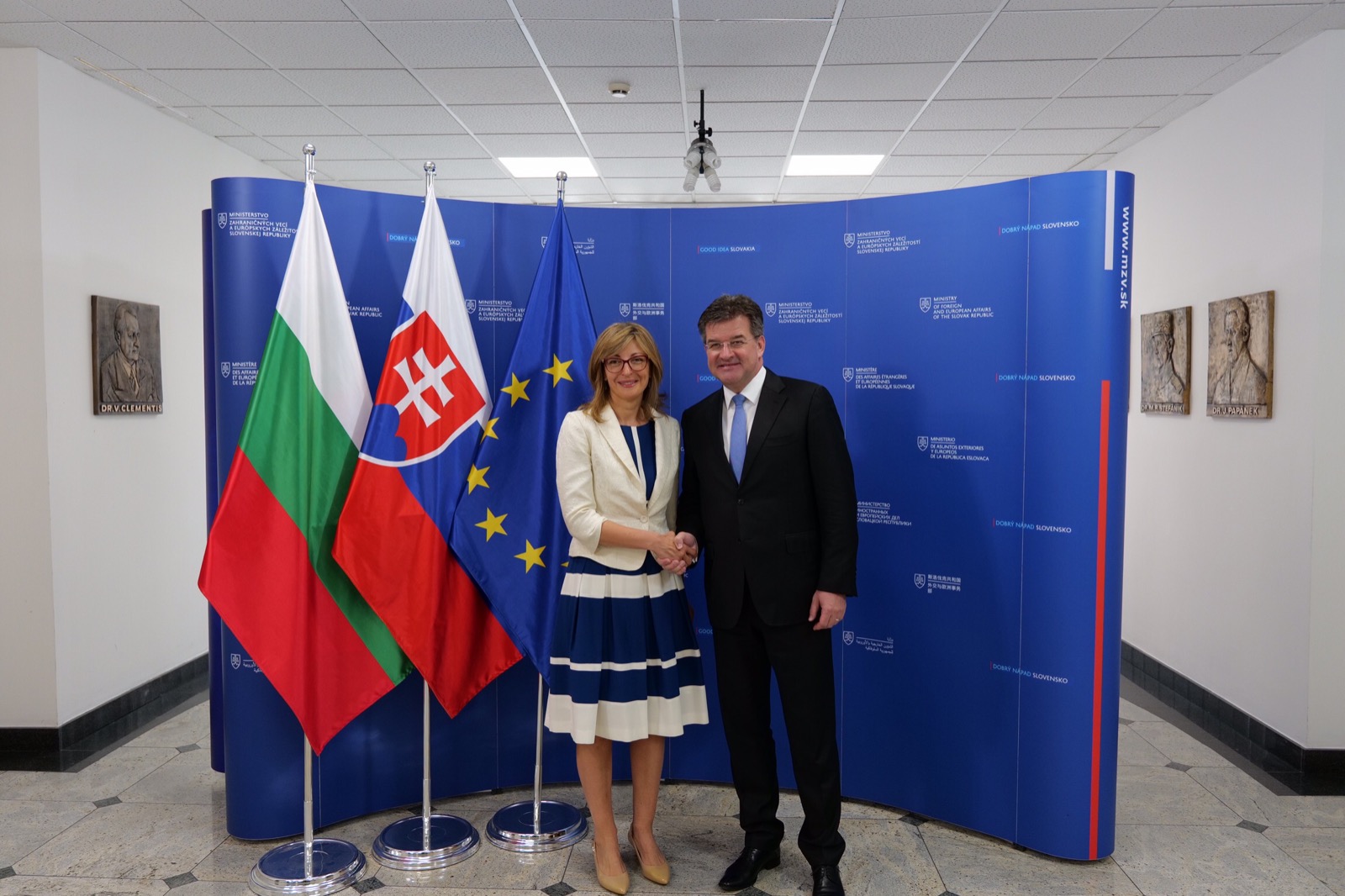 The Republic of Albania and the Republic of North Macedonia must receive an invitation to start negotiations with the European Union: this position is shared by the Ministers of Foreign Affairs of the Republic of Bulgaria, Ekaterina Zaharieva, and of the Slovak Republic, Miroslav Lajčák, who conferred in Bratislava today.
Deputy Prime Minister Zaharieva is paying a working visit to Slovakia for participation in the GLOBSEC 2019 Bratislava Forum.
"Last year at the General Affairs Council, chaired by Bulgaria, we gave a green light to the start of negotiations with Tirana and Skopje. We should better start the negotiations because we will have more instruments to assist our partners' reforms, including the observance of goodneighbourly relations," Zaharieva said.
Zaharieva and Lajčák discussed the situation in the Balkans and other issues of mutual interest. The Slovak Republic is a partner and ally in NATO and the EU and shares similar positions with Bulgaria on the important European dossiers and items on the international agenda.
Lajčák reiterated Slovakia's categorical support for the abolition of the Cooperation and Verification Mechanism for Bulgaria and the country's entry into the Schengen Area.
The chief Slovak diplomat accepted an invitation to visit Bulgaria. "I began my diplomatic career as an intern at the Embassy of Czechoslovakia in Sofia," Lajčák recalled.
Slovakia sees opportunities for cooperation with Bulgaria in the manufacture of car parts, in encouraging business start-ups, and in the implementation of the Eastring gas pipeline project, which will link the biggest compressor station in the EU, at Veľké Kapušany (Slovakia), with the gas transmission systems of Hungary, Romania and Bulgaria up to the gas interconnector between Bulgaria and Turkey.
In 2018, Bulgaria exported goods worth EUR 217 million to Slovakia, nearly 5 per cent more than in the previous year.
Bulgaria and Czechoslovakia established diplomatic relations on 27 September 1920. Bulgaria maintained diplomatic relations with the first independent Slovak State between 1939 and 1945. Bulgaria recognised the independence of the Slovak Republic on 23 December 1992, and the two countries established diplomatic relations at the embassy level as from 1 January 1993.