120 years diplomatic relations between Bulgaria and the USA
30 January 2023
Events and Discussions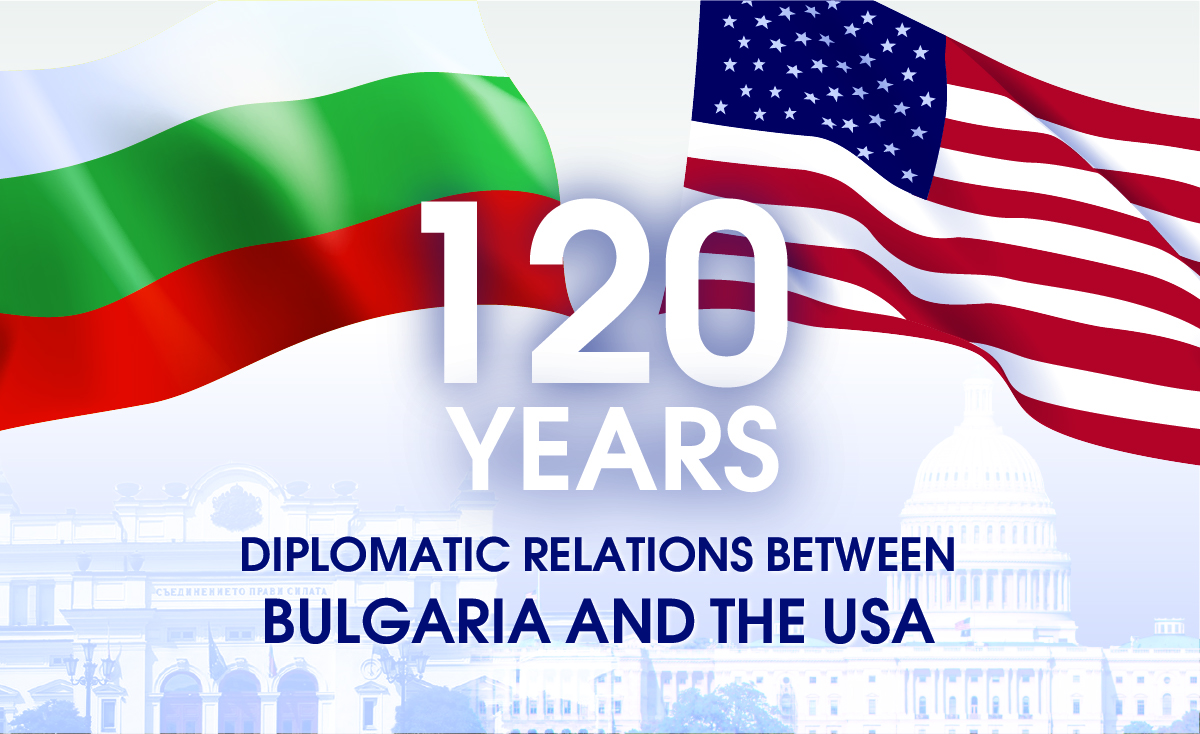 September 19, 2023 marks the 120th anniversary of the establishment of diplomatic relations between the Republic of Bulgaria and the United States of America! On this memorable date back in 1903, Bulgarian Prince Ferdinand accepted the Letters of Credence of John B. Jackson, the US Minister Plenipotentiary for Greece, Romania and Serbia, who became the first US diplomatic agent for our country.
When Bulgaria declared its independence on 22 September 1908, Horace G. Knowles, then US ambassador to Romania and Serbia and diplomatic representative for Bulgaria, immediately sent a telegram to Washington. On May 3, 1909, the United States officially recognized Bulgaria's independence. President William Taft congratulated Tsar Ferdinand on the admission of our country into the community of sovereign and independent states!
On January 12, 1912, the first consular office of the United States in Bulgaria was opened, headed by the prominent physician and publicist Asen Kermekchiev (also known as Ace Kermek) as the first US consular agent in Sofia.
In 1914 Bulgaria opened its first legation in the USA. Stefan Panaretov, a prominent Bulgarian scientist, public figure and diplomat, was appointed Minister Plenipotentiary to Washington and presented his Letters of Credence to President Woodrow Wilson on 10 December 1914.
On March 18, 1919, the U.S. Legation opened in Sofia, and Charles S. Wilson presented his Letters of Credence as chargé d'affaires ad interim. In 1921, he was officially appointed United States Minister Plenipotentiary to Bulgaria.
In the following decades, Bulgaria's bilateral relations with the United States passed through different historical stages. The ties between the people of the two countries - that rich and colourful weave of friendship, trust and mutual respect, which is both a bridge and a foundation, and a promise for the future - remain unbroken by the winds of history. Today, over 300,000 Bulgarians live and work in the United States. With their diligence, integrity and creative fervor, they make the world around them a little better every day and at the same time paint a beautiful image of the Fatherland.
One hundred and twenty years after the establishment of diplomatic relations, the Republic of Bulgaria and the United States are working in close cooperation both bilaterally and within various international forums and organizations in search of sustainable solutions to contemporary global and regional problems. With the establishment of the Bulgaria-US Strategic Dialogue, the first session of which took place on 8 January 2020 in Sofia, relations between our two countries have been elevated to a qualitatively new level.
Allies, friends and strategic partners, united by shared values, interests and a common vision for the future, we are honoured to stand shoulder to shoulder on the international stage!
Join us to become part of the history of Bulgarian-American relations and experience the rich program of cultural events and activities dedicated to the anniversary, which will cover the entire calendar year 2023!
Stay tuned to this page for more information on upcoming and past events!