THE GOVERNMENT APPROVED THE INITIAL MEMORANDUM OF THE REPUBLIC OF BULGARIA ON THE ACCESSION TO THE OECD
30 November 2022
Events and Discussions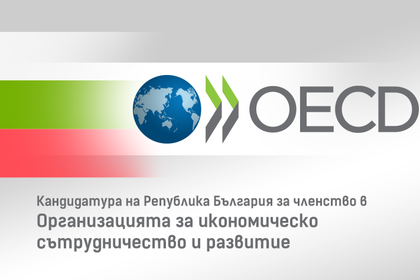 The Council of Ministers approved the Initial Memorandum of the Republic of Bulgaria related to the accession process to the Organization for Economic Cooperation and Development (OECD).
In accordance with the priority declared at the beginning of its work, the caretaker government fulfilled its commitment and prepared this key document in an extremely short time. The Council of Ministers authorized the Minister of Foreign Affairs Nikolay Milkov to submit the memorandum to the OECD Secretary-General Mathias Cormann, thus starting the actual negotiations for Bulgaria's accession to the organization.
The document represents the first self-assessment of the alignment of Bulgaria's legislation, policies and practices with the OECD legal instruments in force as at 31 October 2022. The memorandum was prepared with the input of all the institutions of the Inter-institutional Coordination Mechanism for the accession of Bulgaria to the OECD, chaired by the Minister of Foreign Affairs.
The submission of the Initial Memorandum to the OECD is an important step on Bulgaria's path to joining the global community of countries sharing common values, standards and best practices. This is a step towards achieving sustainable economic growth and a high standard of living, which will bring long-term benefits to our country.