Meeting of Consul General Vladislav Spasov with the Director of the Shanghai Municipal Commission of Commerce Mr. Gu Jun
13 January 2023
News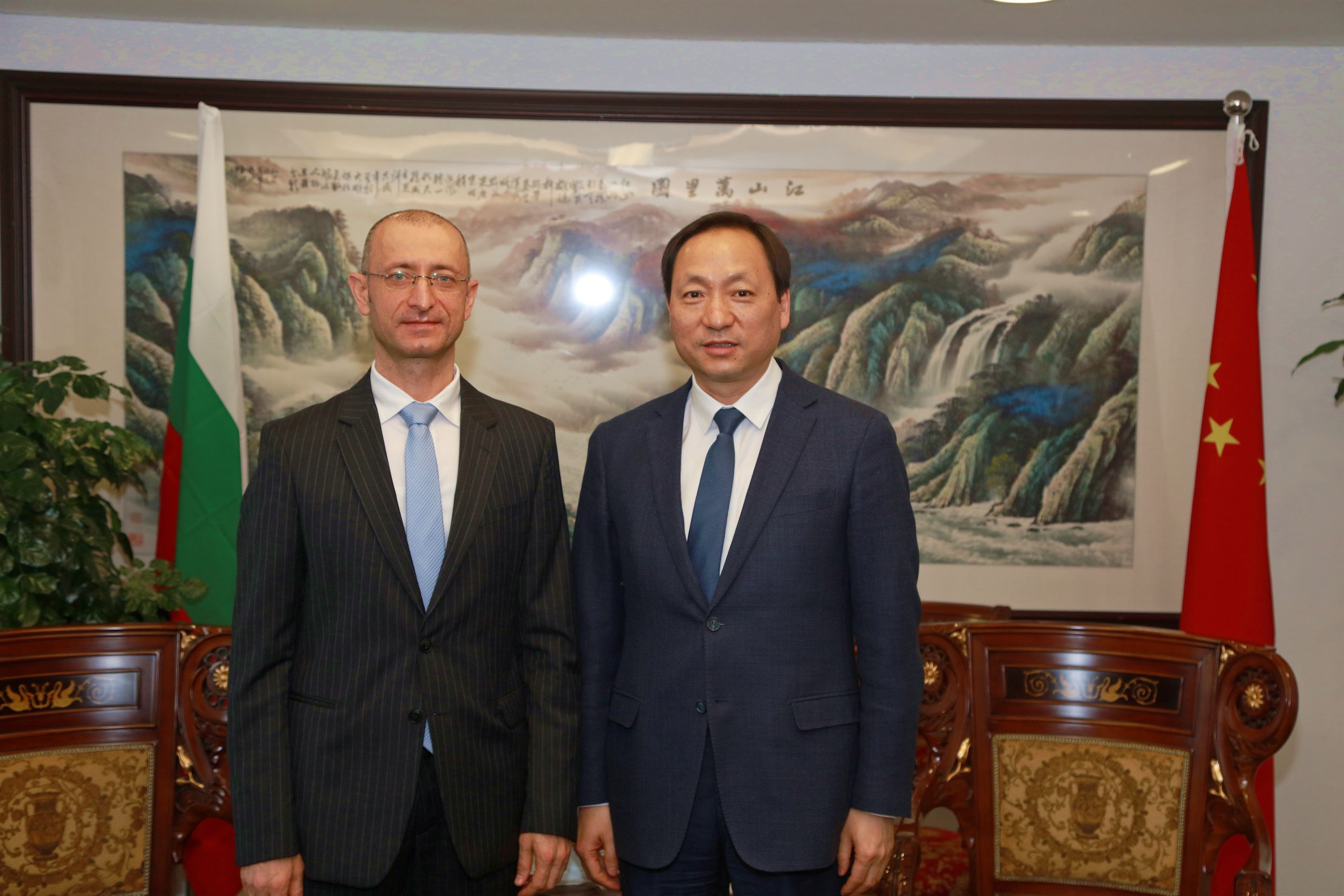 On 12 January 2023 the Consul General Vladislav Spasov met the Director of the Shanghai Municipal Commission of Commerce Mr. Gu Jun.
The Consulate General and the Shanghai Municipal Commission of Commerce (SCOFCOM) have very good working relations and the Chinese side informed about the current economic situation of Shanghai, incl.: in 2022 the city's GDP is estimated to total 4.45 trillion yuan (approx. 599 million euro). Shanghai keeps its 1st place in the world in terms of port-trade volume and accordingly, one of SCOFCOM's missions is to continue to expand the import of high quality products. Under the instructions of Ministry of Trade of China (MOFCOM) in the last few years Shanghai has been trying to establish itself as a Pilot area for e-commerce cooperation under the Belt and Road Initiative (BRI). The city will continue to encourage Shanghainese companies to seek market opportunities abroad, especially in countries which are part of the BRI and develop cooperation between Shanghainese and Bulgarian companies – cooperation that already has a sound foundation.
The Consul General Vladislav Spasov mentioned that during the years of Covid-19 pandemic high level exchanges between Bulgaria and China were interrupted and our side would like to resume them. He underlined the need to strike the right balance in the economic field and to expand the Bulgarian import to China. He thanked the SCOFCOM for all support and help extended to the Consulate General of Bulgaria in Shanghai. Having in mind the removal of all restrictions for coming to China related to Covid-19 pandemic (from 8 January 2023), he expressed willingness to work together with SCOFCOM to intensify economic cooperation between Bulgaria and Shanghai and organize more bilateral business meetings in areas of mutual interest.
The Trade and Commercial Consul at the Consulate General of Bulgaria Ms. Ivet Nikolova was also present at the meeting as well as Directors and Deputy Directors of the SCOFCOM, incl. of the Department of Foreign Investment Administration, Foreign Trade Development Department, Foreign Economic Cooperation Division and Foreign Affairs Division.
Both sides expressed their confidence in the continuation of mutually beneficial cooperation.
More photos