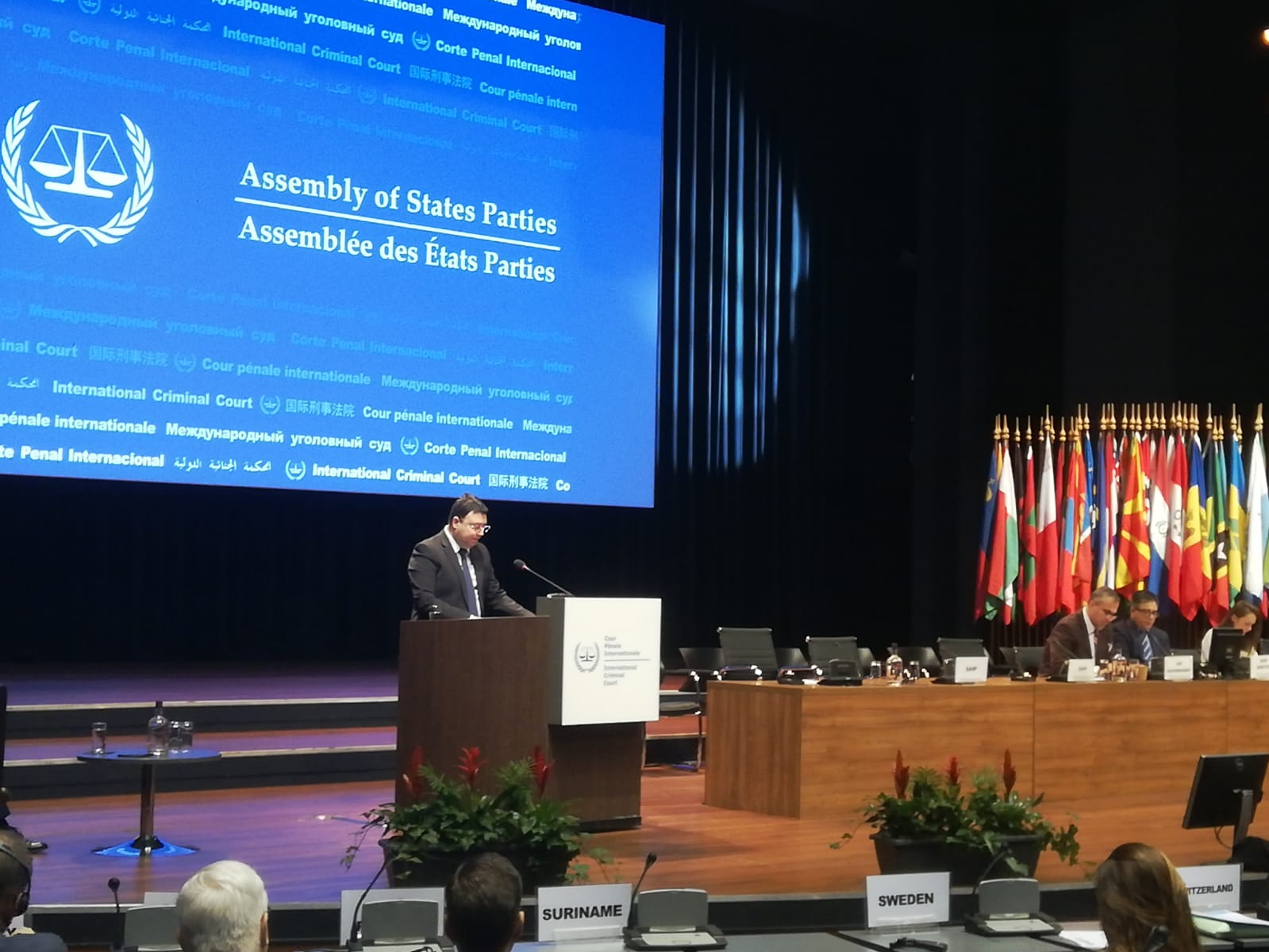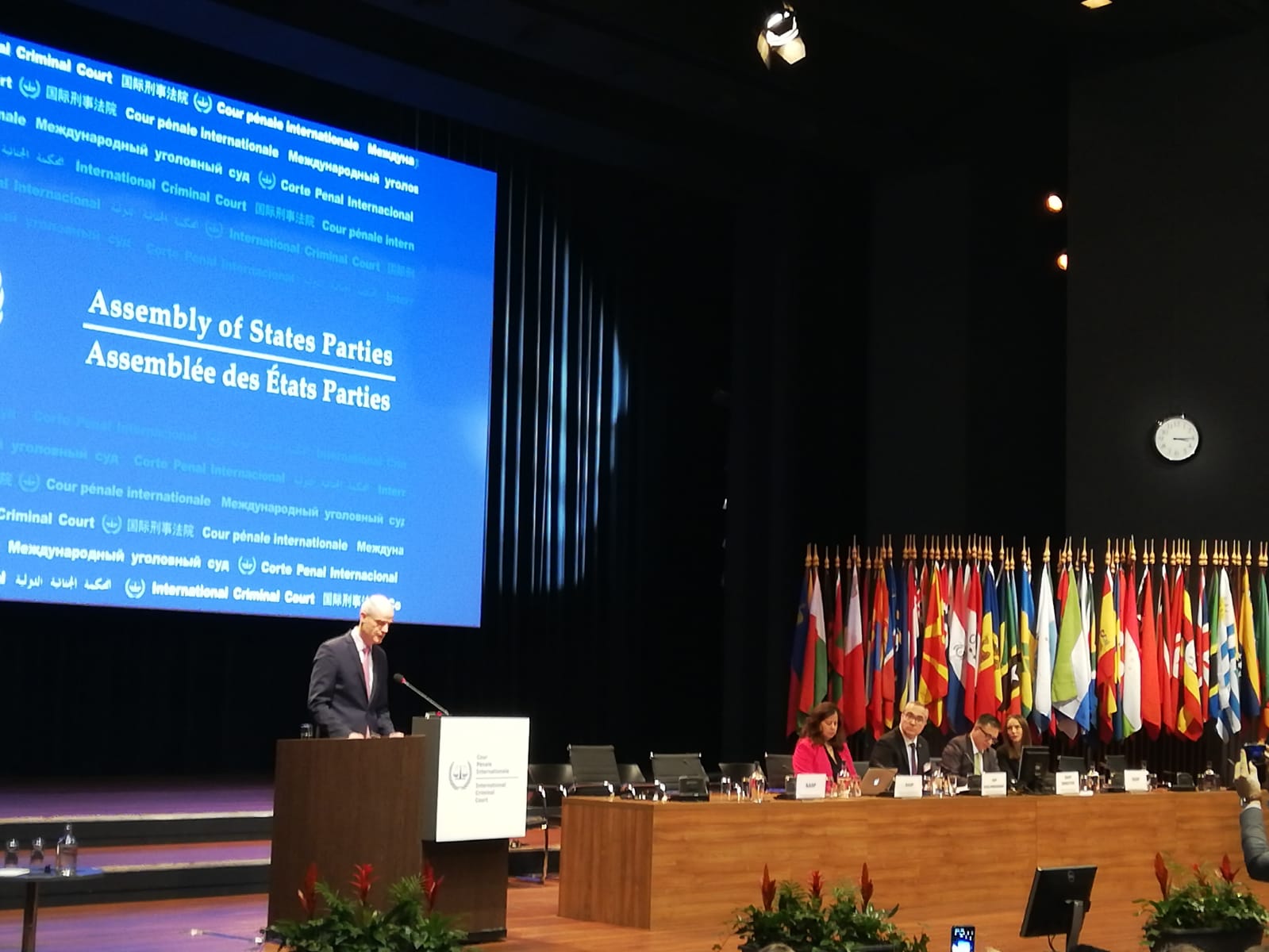 The 18th Annual Session of the Meeting of the States Parties to the Rome Statute of the International Criminal Court takes place in The Hague from 2-7 December 2019, with the participation of numerous ministers, secretaries of state, high magistrates and ambassadors from 123 countries. The General debate within the session was opened by the Minister of...
ПОСОЛСТВО НА РЕПУБЛИКА БЪЛГАРИЯ В ГР. ХАГА, КРАЛСТВО НИДЕРЛАНДИЯ
Адрес: Duinroosweg 9, 2597 KJ The Hague, The Netherlands
Телефон: +31 70 350 30 51
E-mail: Embassy.Hague@mfa.bg
Website: https://www.mfa.bg/embassies/netherlands
Работно време: Понеделник - Петък, 9.00 - 17.00 ч.
КОНСУЛСКА СЛУЖБА НА ПОСОЛСТВОТО НА РЕПУБЛИКА БЪЛГАРИЯ В ГР. ХАГА, КРАЛСТВО НИДЕРЛАНДИЯ
Адрес: Duinroosweg 9, 2597 KJ The Hague, The Netherlands
Телефон: +31 70 358 46 88 /между 14.00 и 15.30 ч. - за консулска информация и запазване на час за издаване на лични документи
E-mail: Consul.Hague@mfa.bg
Приемно време за граждани: Понеделник, Вторник, Четвъртък, Петък, 9.00 - 12.00 ч. /за подаване на заявления за лични документи, заверка на пълномощни, визи и всички други видове консулски услуги/, Сряда, 13.00 – 16.00 ч. /само за получаване на готови документи/
On-line запазване на час: https://www.consulatebg.eu – за издаване на лични документи; за заверка на пълномощни и актове за раждане не е необходимо предварителното запазване на час
Дежурен телефон за спешни случаи: + 31 6 57 448 073 /само в извънработно време, почивни и празнични дни/
Consular Section of Embassy of the Republic of Bulgaria:
Tel.for consular information and making an appointment for personal documents and visas
/between 14.00-15.30/: +31 70358 46 88 /an appointment is not necessary for powers of attorney/
An apointment for submitting personal documents can be made online:
https://www.consulatebg.eu
Emergency phone: +31 06 5744 8073 /only for emergency cases/
Opening hours:
Monday, Tuesday, Thursday and Friday from 9.00 to 12.00 /for applications for personal documents, endorsement of powers of attorney, visas and all other consular services/
Wednesday from13.00 to16.00 /only to receive ready documents/
Embassy of the Republic of Bulgaria
Address: Duinroosweg 9, 2597 KJ The Hague, The Netherlands
Tel: 070 350 3051 /this telephone should not be used for consular information except in emergency/
E-mail:
[email protected]
Opening hours: 9.00-17.00 /these are not the opening hours of the Consular section/