The 3rd China-CEEC Expo and International Consumer Goods Fair in Ningbo
25 May 2023
News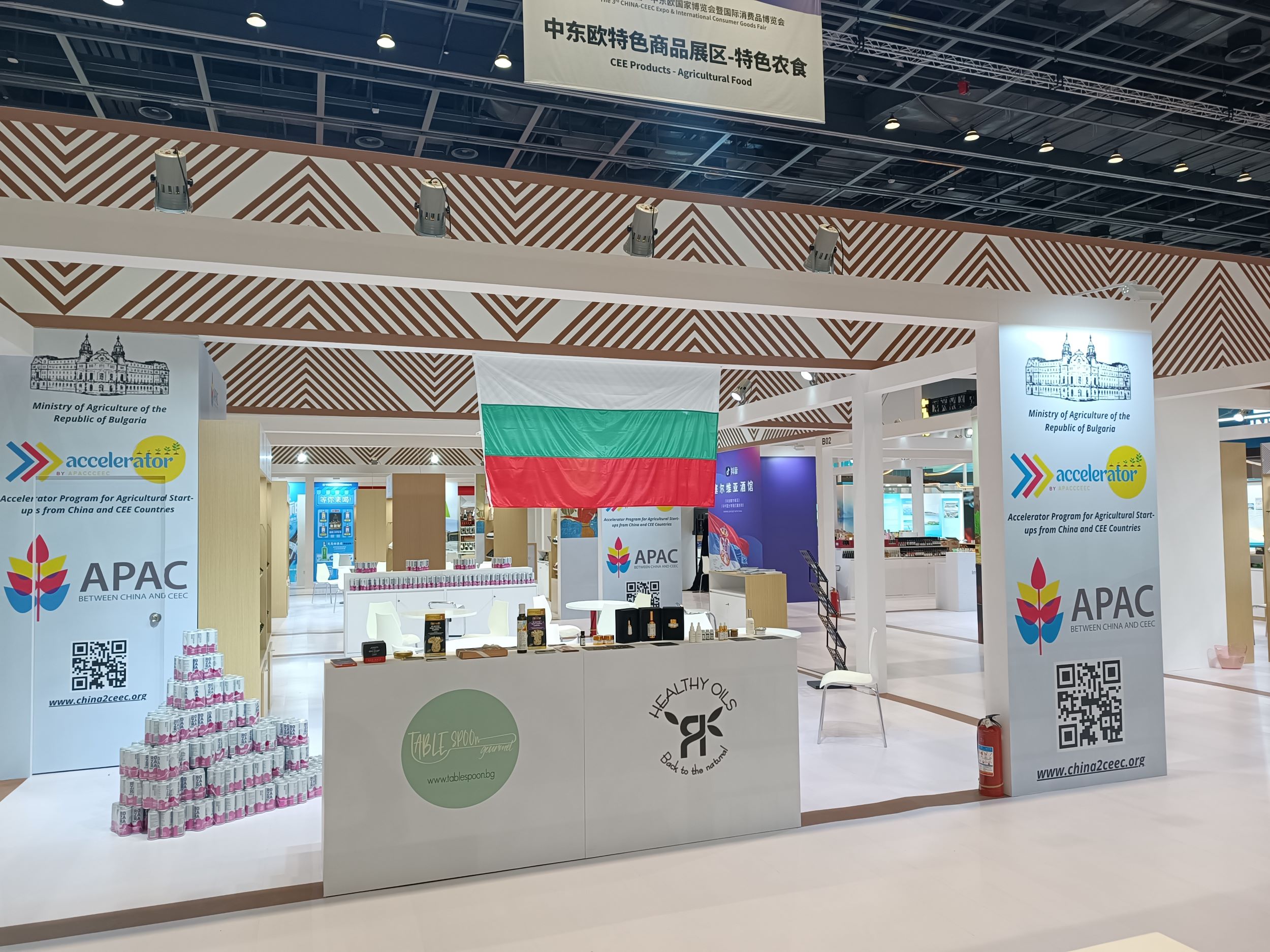 The 3rd China - Central and Eastern European Countries (CEEC) Expo and International Consumer Goods Fair, as well as many associated events, took place in Ningbo, Zhejiang province from 15 to 20 May 2023.
The Consulate General in Shanghai facilitated Bulgaria's representation, carried out by the Bulgarian Small and Medium Enterprises Promotion Agency (BSMEPA), the Association for the Promotion of Agricultural Cooperation between China and the Central and Eastern European countries (APACCCEEC) and 8 companies which displayed 47 Bulgarian brands. They presented products from our pharmaceutical and cosmetics industries (incl. rose oil products), agriculture, food and beverages (incl. wine, beer and juice). The opportunities for tourism in Bulgaria were advertised for the first time at the Expo. The BSMEPA and the APACCCEEC received Win-win Award for Best Cooperation from the organizers.
The Consul General Vladislav Spasov participated at the Opening ceremony of the 3th China-CEEC Expo and International Consumer Goods Fair. He represented Bulgaria at the 7th Meeting of China-CEEC Business Council (15 May 2023) and 2023 Central and Eastern European Countries International Forum on Trade in Services (18 May 2023). The Consul General delivered a speech at the China (Ningbo)-CEEC Innovation and Development Forum for Women in Science and Technology (16-17 May 2023) at which Prof. (Ms.) Evelina Slavcheva – Director of Institute of Electrochemistry and Energy Systems and Assoc. Prof. (Ms.) Krassimira Ivanova, Scientific Secretary of Institute of mathematics and Informatics represented Bulgarian Academy of Sciences.
The Deputy Mayor of Veliko Turnovo Minicipality Mr. Neyko Genchev delivered a speech at the China-CEEC Mayors Forum 2023 (17 May 2023).
Two of our compatriots living in Ningbo Mr. Vladimir Tzanev and Mrs. Evgenia Goranova-Bermudez delivered piano performances of popular Bulgarian songs, as well as classical Bulgarian composers. At the event presentations of The National Academy of Music "Prof. Pancho Vladigerov" - Sofia and The Academy of Music, Dance and Fine Arts "Prof. Asen Diamandiev" – Plovdiv were shown as an effort to popularize the opportunities for art education in Bulgaria, as this field is of major interest to Chinese audience.
Prof. Madeline Danova, Dean of Faculty of Classical and Modern Philology at the Sofia University "St. Kliment Ohridski" and Mrs. Aksiniya Koleva, Director of Confucius Institute – Sofia were present at the 8th China (Ningbo)-CEEC Education Cooperation Conference (19 May 2023).
The Director of the APACCCEEC Dr. Momchil Stanishev presided over the 12th Мeeting of the Consultative Board of APACCCEEC which took place (19 May 2023) in hybrid format (in person and online).
After the long period of restrictions, Bulgarian participation in this year's 3rd China-CEEC Expo and International Consumer Goods Fair and all associated events was comprehensive and omnipresent. As a part of the media coverage the Consul General Vladislav Spasov gave an interview for the Chinese media The Paper. The interview is accessible in Chinese language here: https://mp.weixin.qq.com/s/4HoUKRgSLn9N9082M3nEMg