Celebration on the occasion of May 24 with the Bulgarian community from Pavlodar region
27 May 2021
News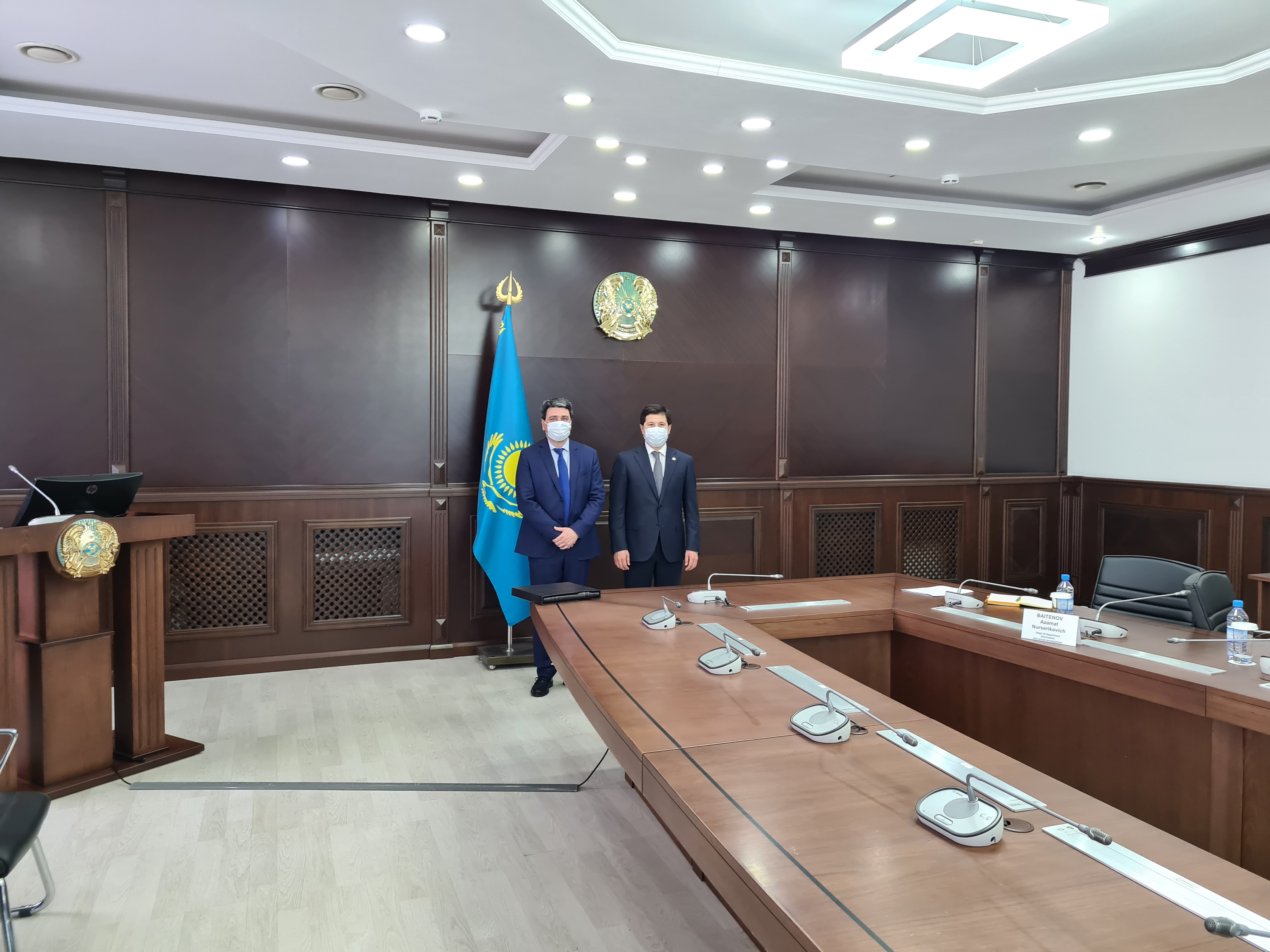 On the occasion of the celebration of May 24 - the Day of the Holy Brothers Cyril and Methodius, the Bulgarian alphabet, education and culture and of Slavic literature, the Extraordinary and Plenipotentiary Ambassador of the Republic of Bulgaria to the Republic of Kazakhstan, Boyan Hadjiev, visited the city of Pavlodar and the village of Aktogay in Pavlodar region.
During his visit Ambassador Hadjiev held a protocol meeting with the Akim of Pavlodar region, Abylkair Skakov. During the meeting they discussed various issues related to the development of the Bulgarian community in Pavlodar region, as well as to the possibility of upgrading the existing cultural and economic ties between the two countries.
In the city of Pavlodar the Bulgarian Ambassador was cordially welcomed by the Head of the Public Association Pavlodar Regional Bulgarian National Cultural Center "Zdravets", the young members of the Center, the Director of the School of National Revival "KB Darzhuman" in Pavlodar, as well as by representatives of the Bulgarian community from the regional town. The Bulgarian songs, dances and poems performed by the talented Bulgarian creative groups contributed to the unforgettable festive atmosphere. Ambassador Hadjiev presented Shatova with a letter of appreciation as a sign of gratitude for her long-term active work and contribution to the preservation and the promotion of the Bulgarian language and culture in the region. A letter of appreciation was also awarded to the Director of the School for National Revival "KB Darzhuman" in Pavlodar, Erbol Aytkulov, for his support to the teachers from Bulgaria, seconded by the Ministry of Education and Science to the Bulgarian Department of the aforementioned school. Ambassador Hadjiev presented books in Bulgarian language to the library of the Bulgarian center.
Ambassador's visit to the village of Aktogay, Pavlodar Region on the occasion of May 24 coincided with the 19th anniversary of the establishment of the regional Bulgarian cultural center and the 114th anniversary of the resettlement of Bulgarians in Kazakhstan. Ambassador Hadjiev laid flowers to the monument of the first Bulgarian settlers. After that he conducted a meeting at the regional library with the representatives of the Bulgarian diaspora of Aktogay and Irtysh regions. The colorful cultural programme was full of songs, dances, traditional Bulgarian dishes and historical memories from the time of the first Bulgarian settlers in the region. In order to provide an opportunity for the Bulgarian community in the region to study and get more familiar with the contemporary Bulgarian language, Ambassador Hadjiev presented books in Bulgarian language to the local library.