Ceremony for the unveiling of a commemorative plaque for James David Bourchier
28 March 2023
News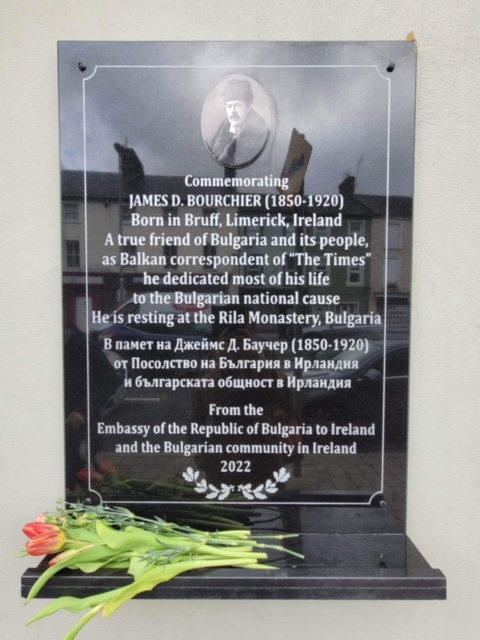 A commemorative plaque for James David Bourchier (1850-1920), was unveiled in his hometown Bruff, county Limerick at an official ceremony on the 22nd of March 2023.
The idea for the commemorative plaque was initiated with the visit of the Ambassador of Bulgaria to Ireland Her Exc. Gergana Karadjova to Limerick in January 2022. A procedure of approval started with the Limerick City and County Council in line with their Memorial Policy. A follow-up visit of the Bulgarian Embassy took place in Bruff, designated by the Irish authorities as locality for installation and An Post Office was chosen.
The design of the plaque was created by the Embassy of the Republic of Bulgaria (in consultation with specialists such as Petko Mangachev and Martin O'Brien) during 2022 with a bilingual inscription - to honour the memory of James D. Bourchier, an important personality in Bulgarian history and for the Bulgarian nation. The picture chosen of J. D. Bourchier is the most emblematic one. The oak brunches, which are used as a final touch are a popular symbol in Bulgarian national heraldry.
The unveiling ceremony included speeches by the Ambassador of Bulgaria to Ireland, H.Exc. Gergana Karadjova, by Geoffrey Keating, the first Irish ambassador accredited to Bulgaria and by Pat Heyes from Bruff Heritage Group.
Ambassador Karadjova presented the new memorial in Bruff as yet another token of the excellent relations between Bulgaria and Ireland. She highlighted the merits to the development of the project by the authors of the monographies on Bourchier's life and deeds Petko Mangachev and Martin O'Brian and outlined the lifeline of James Bourchier in Bulgaria and the Balkans, its dedication and its merits to the Bulgarian national cause at a critical historical juncture and Bourchier's place into the collective memory of Bulgarians - as true friend of our country and the Bulgarian people. The honour to Bourchier is a sign of the gratitude and tribute that he uncontestably deserves.
The unveiling of the commemorative plaque was followed by laying a wreath by the Bulgarian Ambassador and flowers by the guests of the ceremony. Martin O'Brian presented to An Post office the information board outlining the crucial moments of Bourchier's life and putting on display the full collection of James Bourchier post stamps issued by Bulgaria.
The day of the unveiling was a festive occasion for the Bulgarian Embassy and the hosting community of Bruff. The event was honoured by the Deputy Mayor of Limerick, city and county councillors from Limerick and Bruff, local dignitaries, principals and pupils from the local Irish schools. The former ambassadors of Ireland to Bulgaria Geoffrey Keating and Michael Forbes were of attendance. The Bulgarian community in Ireland was represented by the principals of the Bulgarian schools in Dublin and Shannon as well as the lecturers in Bulgarian language and literature at the Trinity College Dublin.