Joint initiative of the embassies of Bulgaria, Romania, the Republic of Moldova and North Macedonia in Stockholm on presentation of the custom of Martenitsa/Mărțișor/Martinka exchange as a symbol of spring
06 March 2023
News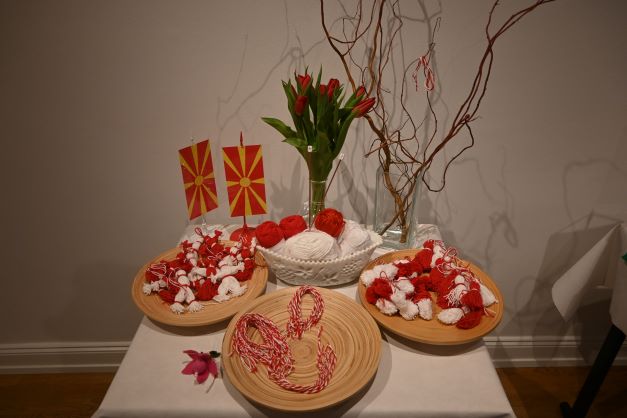 To mark March 1st, the embassies in Stockholm of Bulgaria, Romania, the Republic of Moldova, and North Macedonia, which carried out a joint nomination of the Martenitsa and its inclusion in 2017 by UNESCO in the Representative List of the Intangible Cultural Heritage of Humanity, organized a joint event to present the spring custom of Martenitsa exchange.
Guests at the event, which took place at the Romanian Cultural Institute in Stockholm, were representatives of Swedish partner institutions, including members of the Swedish Parliament, representatives of the Ministry of Foreign Affairs and other Swedish ministries and agencies, the administration of the Swedish Parliament, ambassadors, representatives of the cultural institutes of the EU Member States in Stockholm, the director of the Ethnographic Museum in Stockholm, and many friends.
In their welcoming speeches, the ambassadors of Romania, Bulgaria and the Republic of Moldova and the chargé d'affaires of the embassy of North Macedonia presented various aspects of the history of the common custom of presenting and exchanging of Martenitsas as a symbol of the coming spring and its modern dimensions. The event was accompanied by a workshop on how to make a Martenitsa and various video materials about the Martenitsa from each of the four countries. The guests had the opportunity to taste selected white and red wines from the four countries, organizers of the event, as well as to try the traditional for their cuisine banitsa pastry.