The Canada–Bulgaria Parliamentary Friendship Group held virtually its Annual General Meeting
10 December 2020
News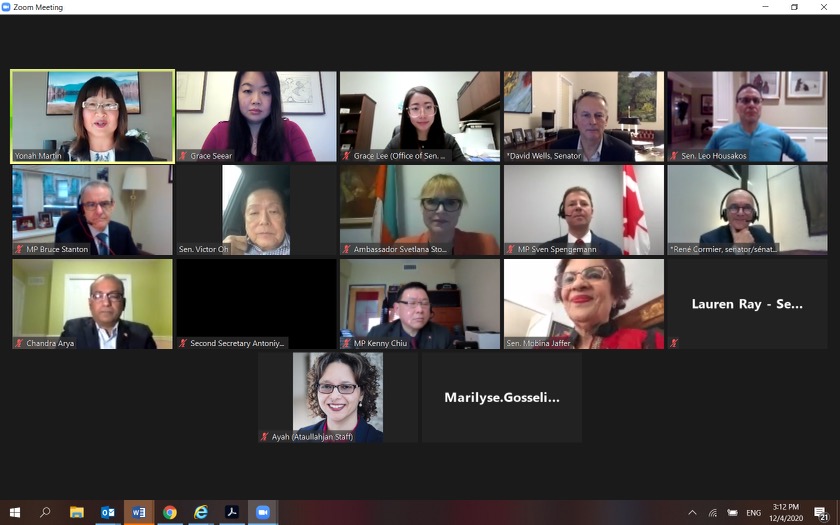 On December 4, 2020 the Canada–Bulgaria Parliamentary Friendship Group held virtually its Annual General Meeting. Members of the Senate and the House of Commons of Canada and diplomats from the Bulgarian Embassy in Ottawa took part in the meeting, held to allow new members to join and the selection of the Group's Executive Board (for the 2020-2021 term). Established back in 2014, the Group now has 19 members. Co-chairs of the Group are the Conservative Senator from British Columbia, the Honourable Yonah Martin (Deputy Leader of the Opposition) and the Liberal MP, representing the riding of Scarborough North in the House of Commons, Mr. Shaun Chen. During the event senator Martin and the Ambassador of the Republic of Bulgaria to Canada, H.E. Svetlana Stoycheva-Etropolski addressed the Friendship Group members. Following are their remarks:
Senator Martin noted the excellent bilateral relations between Bulgaria and Canada and the active interaction between the Bulgarian Embassy in Ottawa and the Canadian Parliament. She pointed out the upcoming celebration in 2021 of the 55th anniversary of the establishment of diplomatic relations between Bulgaria and Canada, referred to the Bulgarian Deputy Foreign Minister Georg Georgiev's visit in Canada at the beginning of 2020 and shared her personal excellent impressions by the highly educated and vibrant Bulgarian community in Canada.
The Bulgarian Ambassador noted the key role of Canada–Bulgaria Parliamentary Friendship Group for expanding bilateral cooperation and strengthening people-to-people ties. She provided examples of the progress made in bilateral relations during the past several years, mentioning the abolition of visa requirements for Bulgarian citizens and the bilateral trade volume increase after the provisional application of CETA. The Ambassador recalled the desire of the Bulgarian side for opening a Canadian diplomatic mission in Sofia soon, requested the support of the Canadian side for Bulgaria's aspiration to receive invitation for starting OECD's accession talks and outlined the key role of establishment and development of a high-level political dialogue for the sake of strengthening bilateral partnership.
"On the eve of the 55th anniversary of establishment of diplomatic relations between the Republic and Bulgaria and Canada, I am pleased to emphasize our evolving, friendly, and close bilateral ties. Our like-mindedness on virtually all international issues, the common attachment to the values of democracy, human rights and rule of law have been a solid base for our achievements. In a world where those values are increasingly challenged they remain important cornerstones in our relations. I'd like to express our gratitude to the members of the Canada Bulgaria Parliamentary Friendship Group for their support in encouraging cultural ties, bridging people-to-people contacts, and deepening the existing friendship between our two peoples", said Ambassador Stoycheva-Etropolski.