Bulgaria and Canada discuss existing bilateral trade and economic opportunities in a virtual event
29 October 2020
News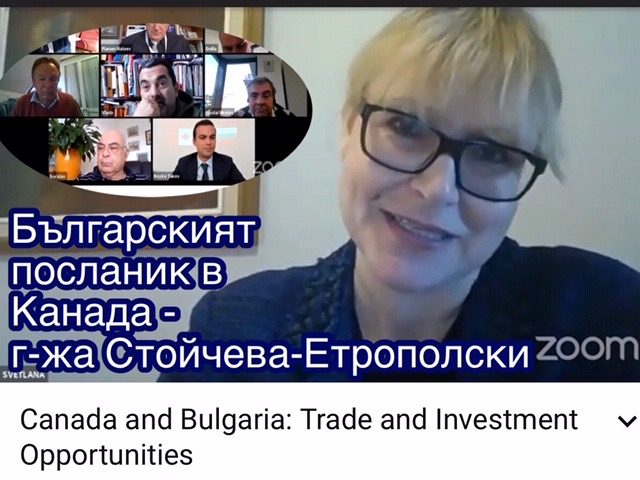 A joint Bulgarian-Canadian webinar "Canada and Bulgaria: Trade and Investment Opportunities", took place on October 22, 2020. It was co-organized by the Bulgarian Small and Medium Enterprises Promotion Agency, Canada-Bulgaria Business Network, the National Business Network, with the cooperation of the Embassy of the Republic of Bulgaria in Canada.

The event aimed at presenting bilateral trade and business opportunities as well as the impact of the Comprehensive Economic and Trade Agreement between Canada and EU (CETA) after the start of its provisional application in 2017.
Event's moderator was the Vice President of Canada-Bulgaria Business Network for Bulgaria and Europe Mr. Alex Nestor. The Deputy Minister of Economy of the Republic of Bulgaria Mr. Stamen Yanev, the Executive Director of Bulgarian Small and Medium Enterprises Promotion Agency Mr. Boyko Takov, the Deputy Leader of the Opposition in the Canadian Senate and Co-Chair of Canada-Bulgaria Inter-Parliamentary Friendship Group the Honourable Senator Yonah Martin and the Ambassador of the Republic of Bulgaria to Canada H.E. Svetlana Stoycheva-Etropolski were among the panelists of the forum, which attracted the interest of representatives of over 100 Bulgarian companies.

The participants were very active and asked dozens of questions.
The Bulgarian Ambassador Mrs. Stoycheva-Etropolski noted the excellent partnership between the Bulgarian Embassy in Ottawa and the Department of Foreign Affairs, Trade and Development of Canada as well as between the Embassy and the Co-Chair of Canada-Bulgaria Inter-Parliamentary Friendship Group in the Canadian Senate Honourable Senator Yonah Martin. In her statement the Ambassador said that Bulgaria and Canada arefriends and allies, bound together by shared principles and commitment to economic opportunity.

Among the main issues that have been resolved in the last few years were was the lifting of the visa requirements for Bulgarian citizens. The Ambassador also noted that important priorities of the Embassy are to increase Canadian direct investments in Bulgaria and expand the volume and diversity of Bulgarian products on the Canadian market. The increase in bilateral trade volume after the start of the provisional application of CETA was noted by the majority of the panelists.
All participating officials agreed on the existing potential to further deepen and develop the economic bilateral dialogue,despite of the COVID-19 Covid-induced crisis. Both countries will continue to strive towards finding common solutions to the post-pandemic financial and economic consequences.
The guest speaker of the webinar Mr. Bill Macheras, Manager and Trade Commissioner at Global Affairs Canada, presented Canada's business climate and the advantages of bilateral trade and investment cooperation. According to the data presented the total bilateral merchandise trade in 2019 amounted to 447 mln. CAD.
A link to the full recording of the webinar "Bulgaria andCanada: Trade and Investment Opportunities" can be found here: https://www.youtube.com/watch?v=szhF-N6MZG0&pbjreload=101