Gala screening of the film "The Good Driver" directed by Tonislav Hristov
11 May 2023
News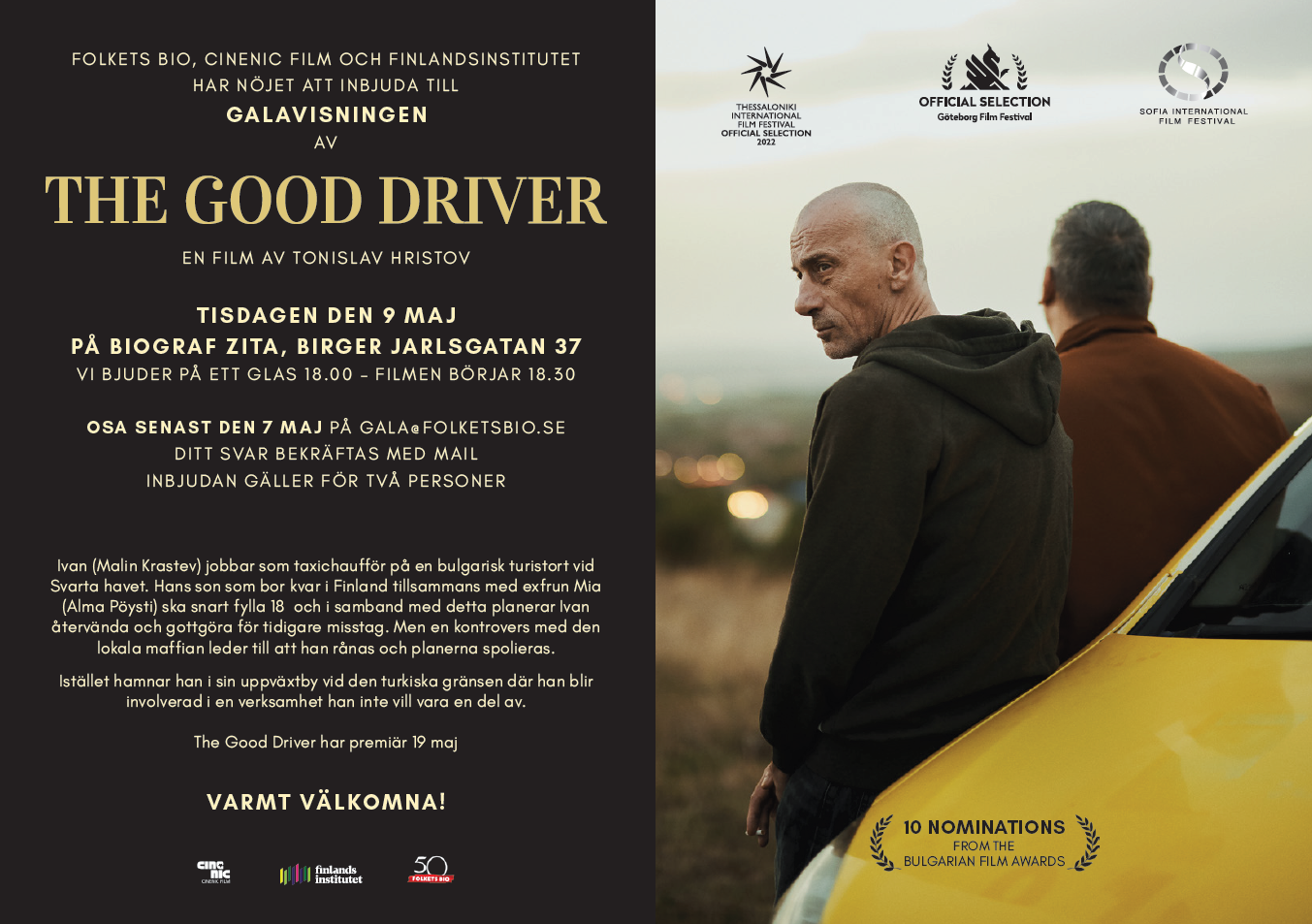 On May 9th, 2023, the Gala Screening of the film THE GOOD DRIVER, directed by Tonislav Hristov, took place at Zita Folkets Bio cinema theatre in Stockholm. The film is a joint production of Bulgaria, Finland, and Sweden. In addition to directing the film, Tonislav Hristov, together with Kaarle Aho and Konstantin Bojanov, are the co-authors of the script. The film's creative team includes mainly Bulgarian professionals.
The gala screening was organized by the Swedish distributor Folkets Bio and the Finnish Cultural Institute in Stockholm.
The film was introduced to the audience by Ms Rose-Marie Stand from the distributor Folkets Bio, and Ms Annika Hellström, co-producer from Cinenic. Ms Milka Jafri and Ms Karin Karlsson, representative of the Finnish Cultural Institute in Stockholm also welcomed the audience. Antoaneta Grigorova, Deputy Head of Mission from the Bulgarian embassy in Stockholm, greeted the guests and expressed gratitude to the organizers of the event on behalf of the embassy.
Among the guests at the gala screening were Mr Matthias Rost and Ms. Ingrid Rogblad, respectively Executive Director and Chair of the Board of Zita Folkets Bio, representatives from the Swedish film industry, Mr Bertil Ruth, former ambassador of Sweden to Bulgaria, Mr Uwe Wetterberg, chairman of the Swedish-Bulgarian Association.
The official premiere of the film in Stockholm will take place on May 19th, 2023, again in Zita Folkets Bio.
Tonislav Hristov's film THE GOOD DRIVER has been selected for screening the 46th edition of the Gothenburg Film Festival (January 27 – February 5, 2023), during which 250 films from 80 countries were screened.