Ambassador Maria Tzotzorkova presented her Letters of Credence to the President of Botswana
16 April 2022
News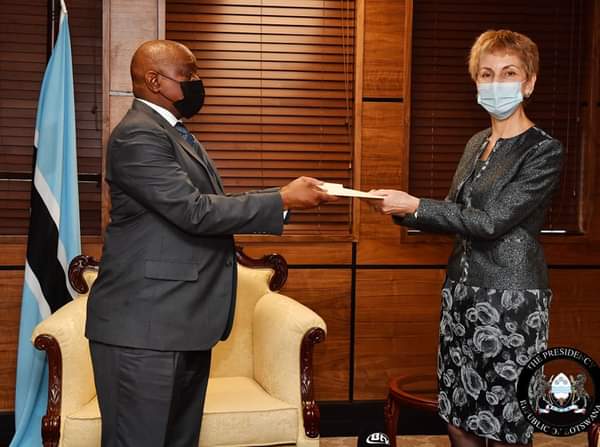 On the 12thof April 2022, the Ambassador Extraordinary and Plenipotentiary of the Republic of Bulgaria to the Republic of Botswana with residency in Pretoria, SA, Mrs Maria Pavlova Tzotzorkova-Kaymaktchieva presented her Letters of Credence to the President of Botswana HE Dr Mokgweetsi Eric Keabetswe Masisiat a ceremony, which took place at the Presidency in Gaborone.
Ambassador Tzotzorkova held meetings with the President and the Minister of International Affairs and Cooperation HE Dr Lemogang Kwape, who shared the assessment of the traditional friendship and empathy between the two countries, which serves as a valuable basis for the further enhancement and upgrade of the bilateral relations. The interlocutors discussed opportunities for stepping up of the political dialogue and deepening of the cooperation in the fields of agriculture, industry, tourism and education, taking into account the priorities of both countries. Ambassador Tzotzorkova confirmed the support of Bulgaria for the initiatives and the programmers of the European Union in Botswana and the Southern African region, including our engagement with the projects in the framework of "Team Europe"'.
Ambassador Tzotzorkova had a meeting in the national Chamber of Commerce and Industry where concrete ideas for expansion of the trade and economic cooperation and for raising the awareness of the business entities and the private businesses in both countries were exchanged. Establishing of possible mechanism for exchange of information on the business environment and economic scope was discussed. Ambassador Tzotzorkova visited also the Secretariat of the Southern African Development Community (SADC) which has important responsibilities in the sphere of the regional economic integration, the sustainable socio-economic development and for strengthening the peace and security in the Southern African region. The membership of the organization includes 16 Southern African countries.