Working visit to West Africa's major chamber of commerce
17 May 2021
News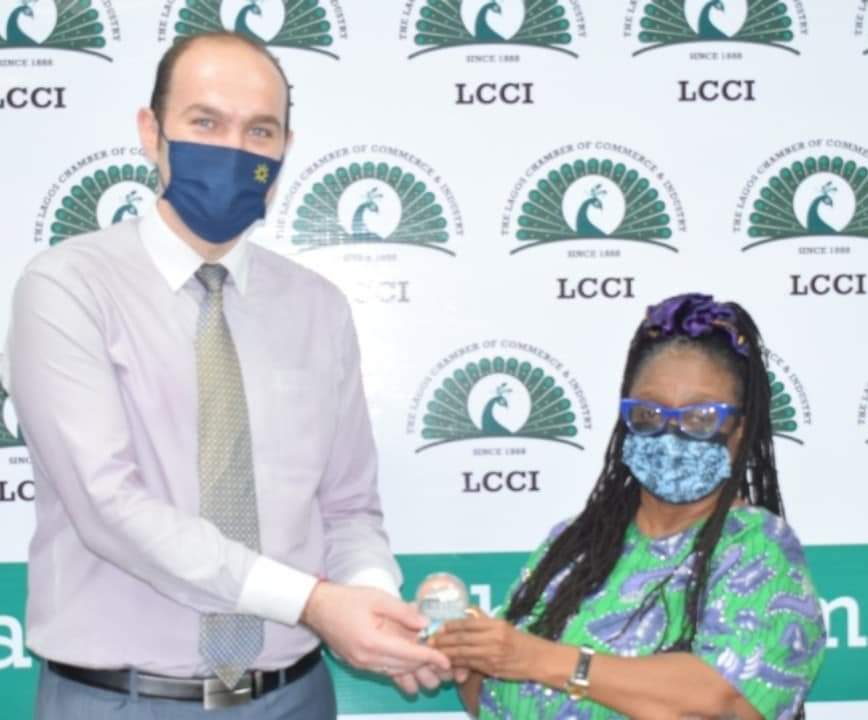 The Ambassador of Bulgaria to Nigeria Yanko Yordanov visited Lagos Chamber of Commerce and Industry (LCCI), which, being established in 1888, is West Africa's oldest as well as largest (measured by its membership) chamber of commerce.
During the conversation with LCCI President Mrs. Toki Mabogunje, Ambassador Yordanov put emphasis on Bulgaria's desire to develop more active economic and trade cooperation with Lagos state - West Africa's principal economic, trade and logistics hub. Mrs. Mabogunje welcomed the steps undertaken by Bulgaria in strengthening bilateral trade ties and announced that Bulgarian companies would be invited to participate in Lagos' most important business events in 2021 - the Information and Communication Technologies Exposition and the 34th Lagos International Trade Fair. The LCCI President also expressed readiness to formalize cooperation arrangements with partners from Bulgaria.
At the end of the meeting, Ambassador Yordanov received an emblematic gift - a model of the Lagos National Theatre which is designed and built by a Bulgarian company replicating the architectural outline of Varna's Palace of Culture and Sports. For his part, the Bulgarian diplomat presented Ms. Mabogunje, who in her own words is a great admirer of Bulgarian documentaries, with a documentary movie telling the story for Bratsigovo's architecture and builder school.
More photos