Ekaterina Zaharieva: Bulgaria gives practical support to Eastern Partnership countries
13 May 2019
News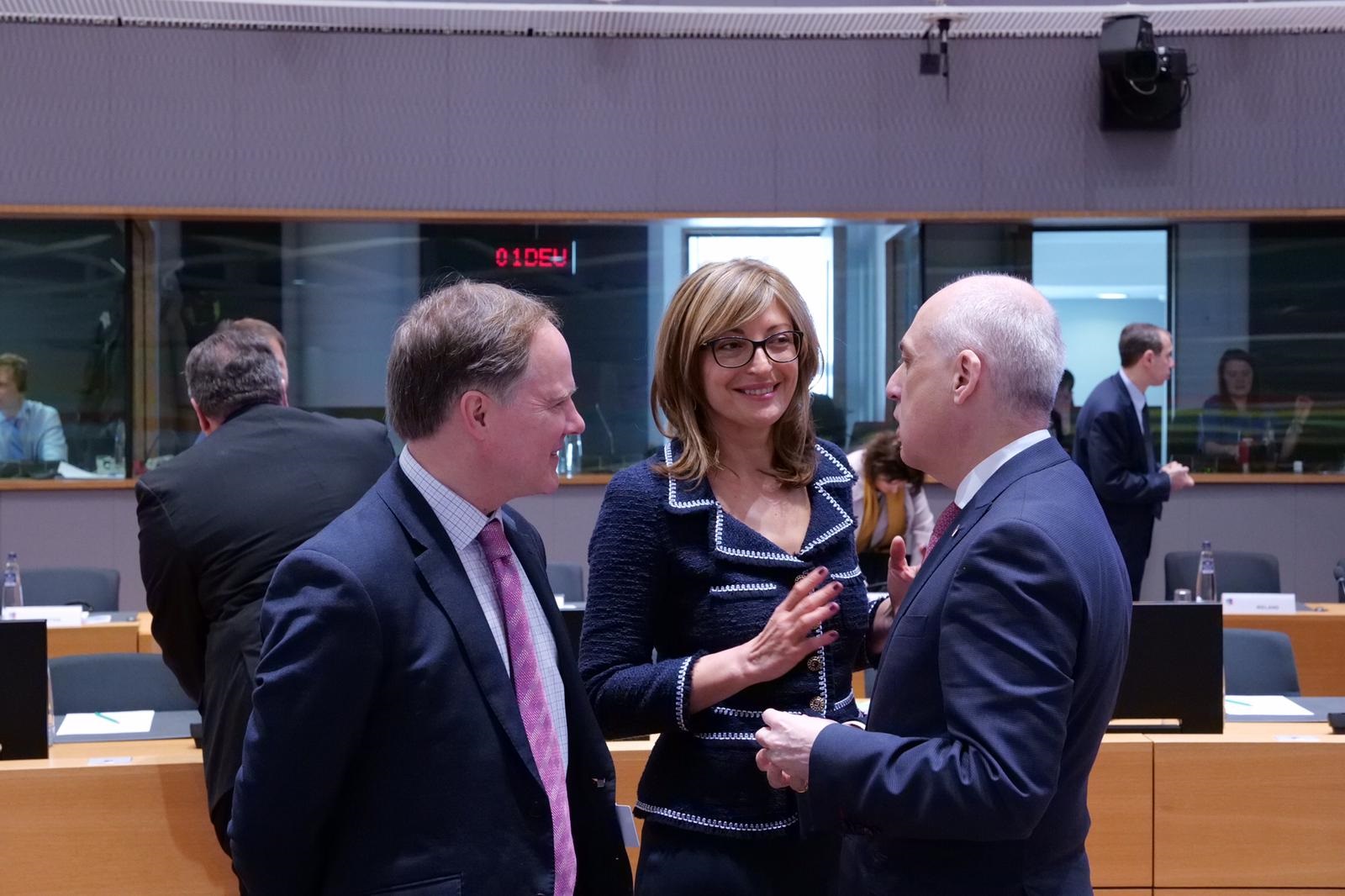 The Deputy Prime Minister and Minister of Foreign Affairs Ekaterina Zaharieva is taking part in the meeting of foreign minister of the EU Member States and their counterparts from the six countries of the Eastern Partnership (EP): Armenia, Azerbaijan, Belarus, Georgia, Moldova and Ukraine. This initiative of the EU and its six partners to the East, launched back in 2009, is marking its 10th anniversary this year.
The debate within the working session of the ministerial meeting focused on the progress made in attaining the 20 goals of the Eastern Partnership for 2020. The participants stated their common appreciation of the good progress made in areas like the economy, trade, small and medium enterprises, connectivity, the establishment of similar or identical roaming charges, visa-free travel, energy efficiency, people-to-people contacts and education. At the same time, more efforts are needed in areas like the rule of law, good governance, combating corruption, election laws, independent media. Progress on human rights and liberties and the civil society is uneven.
'In the past 10 years our common project, the Eastern Partnership, has come a long way. Like a child that needs parental assistance and support in order to overcome difficulties and grow stronger, our partnership depends on our joint efforts,' stated Minister Ekaterina Zaharieva. 'As the year 2020 draws near, it is important to take stock of what we have achieved so far with respect to the 20 goals that we set ourselves. We are particularly appreciative of the efforts to achieve palpable results that would directly reflect on the lives of the citizens of our countries,' noted Bulgaria's top diplomat.
Ekaterina Zaharieva cited a practical example of the kind of support that Bulgaria provides in an energy efficiency project in Ukraine, proposed by the Bulgarian Diplomatic Institute and jointly funded through the Bulgarian cooperation for development assistance and the United States government. About 840 Ukrainian participants from 8 leading universities in six cities have benefitted from the project between 2017 and April 2019. Bulgaria has likewise participated actively in the implementation of various projects and has been providing financial support in the form of official development assistance to Moldova, Georgia and Armenia.
'As we recognize the progress made so far, we must also underscore that further efforts are necessary to achieve sustainable results in all priority areas by 2020,' Minister Zaharieva underscored. The reforms must be consolidated in key areas like independence and effectiveness of the judicial system, combating corruption, freedom of the media, and human rights, including the rights of individuals belonging to national and other minorities.'
More photos