Official opening of the "Bridges of Europe" photo exhibition
10 March 2022
News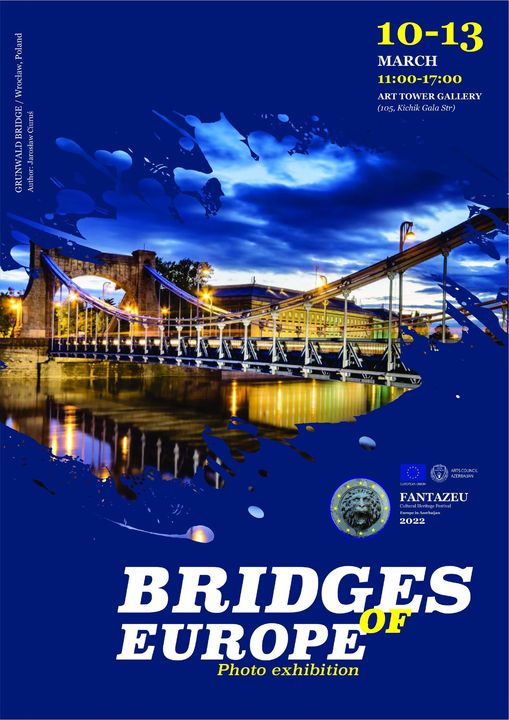 The official opening of the "Bridges of Europe" photo exhibition took place on 9th February 2022 and was attended by the EU Ambassador to Azerbaijan H.E. Peter Michalko, the Bulgarian Ambassador H.E. Nikolay Yankov, ambassadors of EU member state countries, diplomats, representatives of the Azerbaijani cultural and art circles and media.
The "Bridges of Europe" photo exhibition is taking place at the "Art Tower" gallery in Icherisheher and is open to public from 10 to 13 March. Being a part of the FantazEU Festival, the photo exhibition presents the "bridges" of the EU Member States, such as Belgium, Bulgaria, the Czech Republic, Greece, France, Latvia, Hungary, Poland, Slovakia and Sweden.
The main message of the exhibition, as underlined by the EU Ambassador, is that we need to build bridges. Bridges that connect people, countries and cultures. A message of particular importance in a time when Europe is torn by the unacceptable military aggression unfolding in Ukraine.
Bulgaria is represented with two beautiful photos of emblematic bridges.
Kolyu Ficheto's Byala bridge (https://bulgariatravel.org/kolyu-fichetos-bridge-over-the-yantra-river-byala/) - photographer Tsvetan Ganev and
Vladishki most in Veliko Tarnovo (https://opoznai.bg/view/vladishkiiat-most-veliko-tarnovo) - photographer Noncho Ivanov.