Celebrating 140 Years Diplomatic Relations between Bulgaria and Great Britain
28 January 2020
News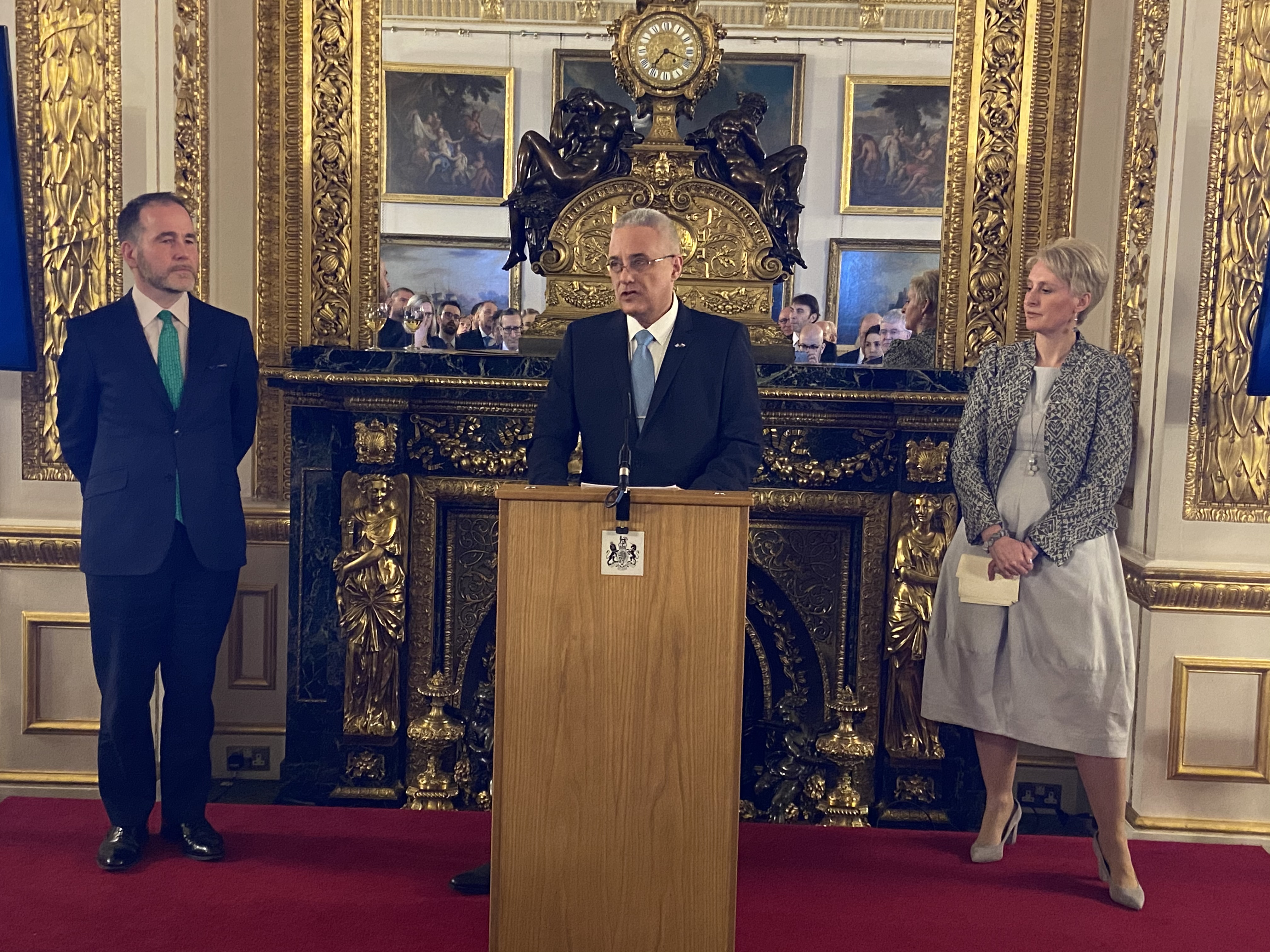 H.E. Ambassador Marin Raykov, the Rt. Hon. Christopher Pincher MP, FCO Minister of State, and H.E. Ambassador Emma Hopkins spoke at a reception celebrating the 140th anniversary since the establishing of diplomatic relations between Bulgaria and the United Kingdom.
The event, held on January 27th at the historic Lancaster House brought together diplomats, representatives of Her Majesty's government and the Houses of Parliament, as well as Bulgarians and friends of our country. A number of them were awarded with honorary certificates issued by the Bulgarian Ministry of Foreign Affairs for their contribution to the strengthening of bilateral relations and to popularizing Bulgarian culture in the UK.
The guests were able to learn more about the development of the bilateral relations throughout the years in an exhibition put together by the British Embassy in Sofia and to see the Balkans through the eyes of women-travelers (18-20 c.), an exhibition created by the Diplomatic Institute with the Bulgarian Ministry of Foreign Affairs. The UK National Archives showcased original maps and documents connected to the history of Bulgaria and its relations with Great Britain.
Opening speech of Bulgarian Ambassador Marin Raykov:
Minister,
Your Excellencies,
Fellow Bulgarians and Friends of Bulgaria, Distinguished Guests,
Allow me to start by expressing my gratitude to the FCO for co-organizing and hosting tonight's event at such a spectacular venue. Many thanks, also, to my counterpart in Sofia, Emma Hopkins, and to her staff for their help. Last, but not least, my thanks go to the Diplomatic Institute and its director Tanya Mihaylova for providing one of the two exhibitions on display here tonight, entitled "Captivated by the Balkans: The Region through the Eyes of 7 British Women Travelers."
The UK has always been a key player in the geo-political equation in Southeastern Europe. We haven't always been on the same side of that equation. But it gives me great pleasure that the last 30 of the 140 years since we established our diplomatic relations have been a time of constant strengthening and deepening of our partnership. Moreover, regardless of the fluctuations of history, Bulgarians have always had an affinity for the culture and history of Great Britain. Therefore our bilateral communication has always gone beyond the foundations laid by the family connection between our royal dynasties.
Before we return to the present and to our plans for the future, let us take a quick look at the past: Bulgarians will be eternally grateful to Prime Minister William E. Gladstone for the support extended to our people during the National Revolution and the massive uprising of 1876, for his support for the Unification Act of 1885, and later for our movement in Macedonia. Let us also remember our colleagues from 140 years ago who established our relationship "on the ground" – Lord William Palgrave in Sofia and Mr Dimitar Tsokov here in London. And also my and Emma's more recent predecessors, some of whom are here tonight.
Throughout the 20th century relations between our two countries have ebbed and flowed. Regardless of the mutual fondness, the world wars placed our two nations in different camps and regrettably Bulgaria ended up on the wrong side of the Iron Curtain. During that period the UK became a safe haven for a number of Bulgarian dissidents and democrats – a hospitality we will always be grateful for. It has now been over 3 decades since Bulgarians rejoined the Western world we belong to. Today contacts between Sofia and London are expanding. We have a strong political partnership, a lively cultural exchange, an ever-increasing trade, and a constant exchange between people – for work, study or tourism. And we are proud that while initially the British only visited Bulgaria as tourists, today we have more and more UK citizens moving to live in our country. In addition to that, UK students are now the second-largest community of internationals studying at Bulgarian universities.
Bilateral trade volumes have doubled over the past ten years and the UK is the third-largest investor in Bulgaria. Bulgarian companies are trusted suppliers to the NHS, the Ministry of Defence, and even to the Royal Family.
Our countries also boast an excellent level of cooperation in the military field, not only within NATO, but also bilaterally, as well as in and the area of security, law enforcement, and criminal justice. We share responsibilities in the context of military and civilian peace-keeping operations across the world. Much has been done to strengthen our cooperation and information sharing. This has led to enhanced capabilities to face common challenges such as international terrorism and organised crime.
Despite the UK's exit from the EU this Friday night – a decision we have thoughts about, but that we fully respect – I am convinced that relations between Bulgaria and the UK have become so close that we are compelled not only to preserve, but to further develop and deepen our partnership. We will continue to do so both bilaterally and within the framework to be negotiated with the EU. Our partnership will also continue to be developed within NATO where we remain reliable allies. In addition to our political involvement, our expat communities will endure as a strong human link between our countries. Over 140 000 Bulgarian nationals have already been granted settled status under the EU Settlement Scheme and we welcome all British citizens who wish to make Bulgaria their home. Their ability to fully integrate in the local Bulgarian environment is a vibrant expression of the widening link between our nations, outlining a clear perspective of our lasting geopolitical alliance.
We look forward to expanding our close cooperation on shared foreign policy objectives. Bulgaria has the ambition to be a key factor in building a new reality in the Western Balkans. Being a nation in the centre of South-eastern Europe and part of the EU and NATO we have certain responsibilities in this region. We expect countries across the Balkans to give practical expressions of their Euro-Atlantic integration perspectives by initiating deep reforms in their societies, rejecting the ideological legacies of extreme nationalism, and establishing good relations with neighbouring European nations. There is no shortcut to EU membership. I am convinced that regardless of Brexit, we shall continue to be committed to working together on these issues with our British friends.
Minister, please allow me to make an announcement. On the occasion of the anniversary, the Bulgarian government has decided to award some of the distinguished personalities who have contributed to the true friendship our people and governments have forged. I would like to invite my colleague to come up on stage and read out the names.
In the meantime, I would also like to say that we look forward to recognizing the notable contributions of Prof. Sonia Rouve and Prof. Vladimir Getov with state orders – a ceremony that is to take place at our upcoming National Day Celebration in March.
Thank you!