Head of Mission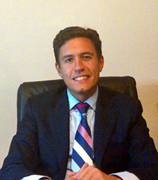 Anguel Tcholakov
Ambassador Extraordinary and Plenipotentiary of the Republic of Bulgaria to France
Eng. Anguel Tcholakov was born on November 18th 1975 in Sofia. He is a graduate of the Secondary school of Mathematics in Sofia and the European school in Brussels.
He has graduated from the Solvay School of Commerce with a Master's degree in Management (Finances) and after a regular training at the European commission (GD EcoFin), he begins to work as a financial analyst at the Brussels's office of Exxon Mobil International Financial Services. He works there for 5 years.
After having graduated from the Brussels's Free University (ULB) with a second Master's degree on Political sciences, he returns to Bulgaria and begins to work at the European Union Directorate at the Ministry of Foreign Affairs of the Republic of Bulgaria.
Since August 2009, he is a counselor on European issues and since April 2010, he is also a counselor on Foreign policy issues to the Prime minister of the Republic of Bulgaria.
Since March 2013, he is Ambassador Extraordinary and Plenipotentiary of the Republic of Bulgaria to Italy.
He speaks French, English and Italian, uses German and Swedish languages.